scroll to start reading my trip♪
Course No. : 06730AZ
(From Osaka) Unseen Beautiful Scenery:
Doro-kyo Gorge Cruising & Suspending Bridge of Tanise
One day trip to a special place of scenic beauty!
Do you know that you can spend an enjoyable day in an attractive, unexplored region leaving from busy Osaka early in the morning? When I entered many mountain ranges, where the World Heritage Kumano Grand Shrine is located, I started to feel at ease with watching the solemn sights. Let's get ready for departure to the trip of healing away from the hustle and bustle of daily life.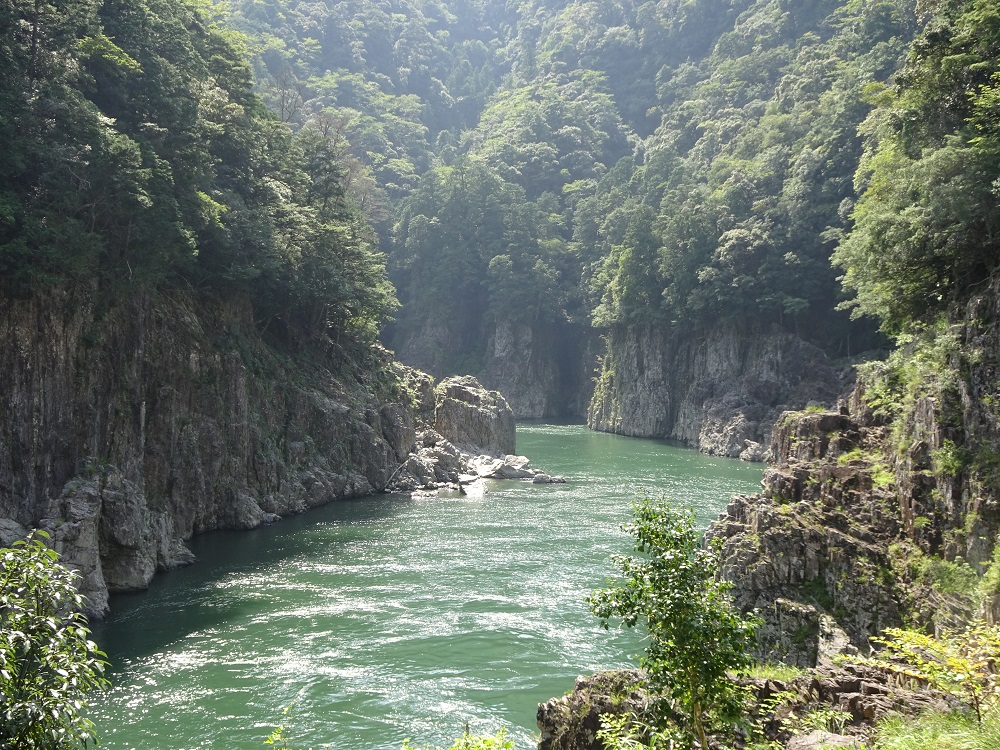 Little bit scared? The suspending bridge of Tanise.
It is the longest length of any daily-use suspending bridge in Japan! I enjoyed feeling of tension as if I walked in the sky, because every time I stepped forward the bridge moved backward and forward unsteadily!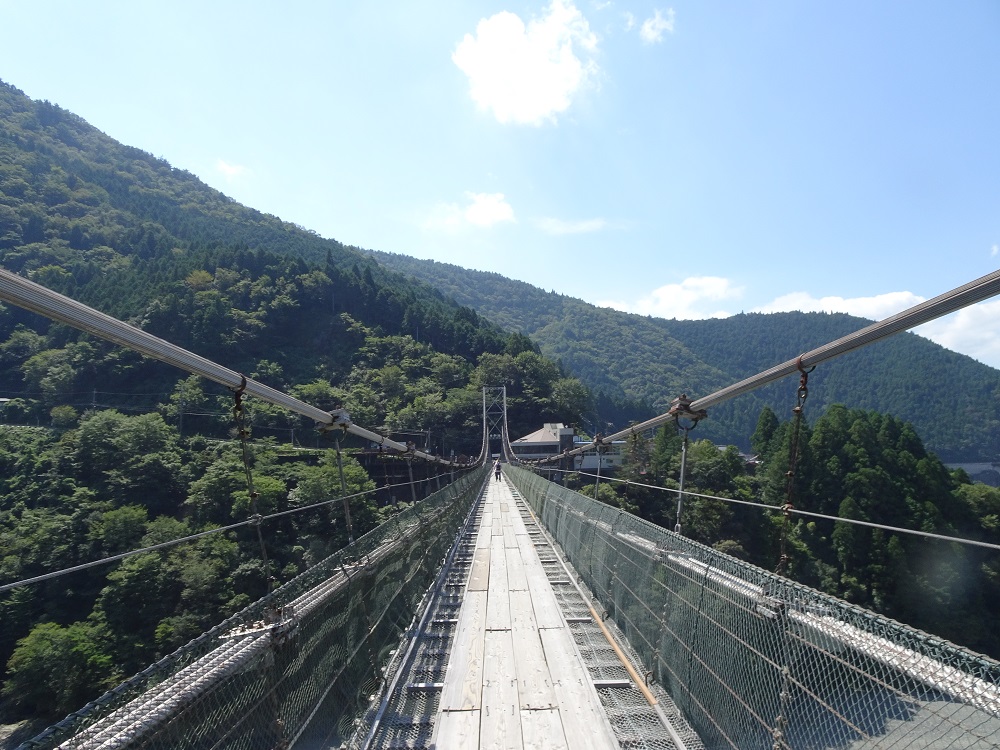 But if you don't like high places…you may shrink back in fear?! A total length of 279m is much the same as the height of Abeno Harukas (300m)! Well, can you finish crossing?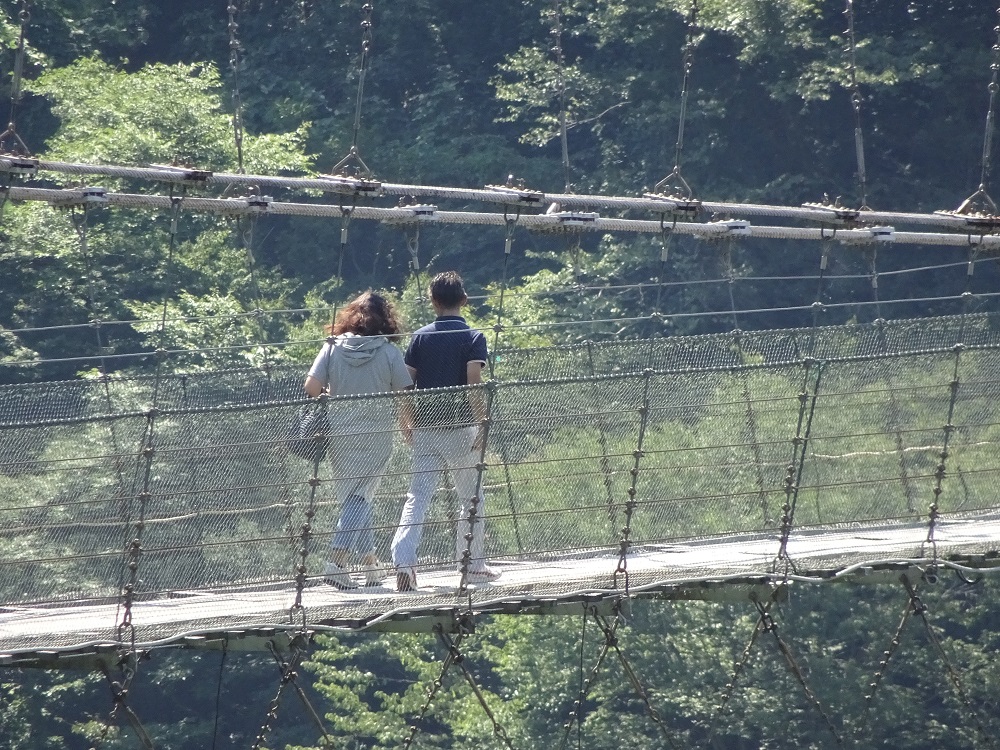 It is said that if a couple hold each other's hands and cross the bridge, they will be happy forever!
Just like Shangri-La! Amazing Doro-kyo Gorge♪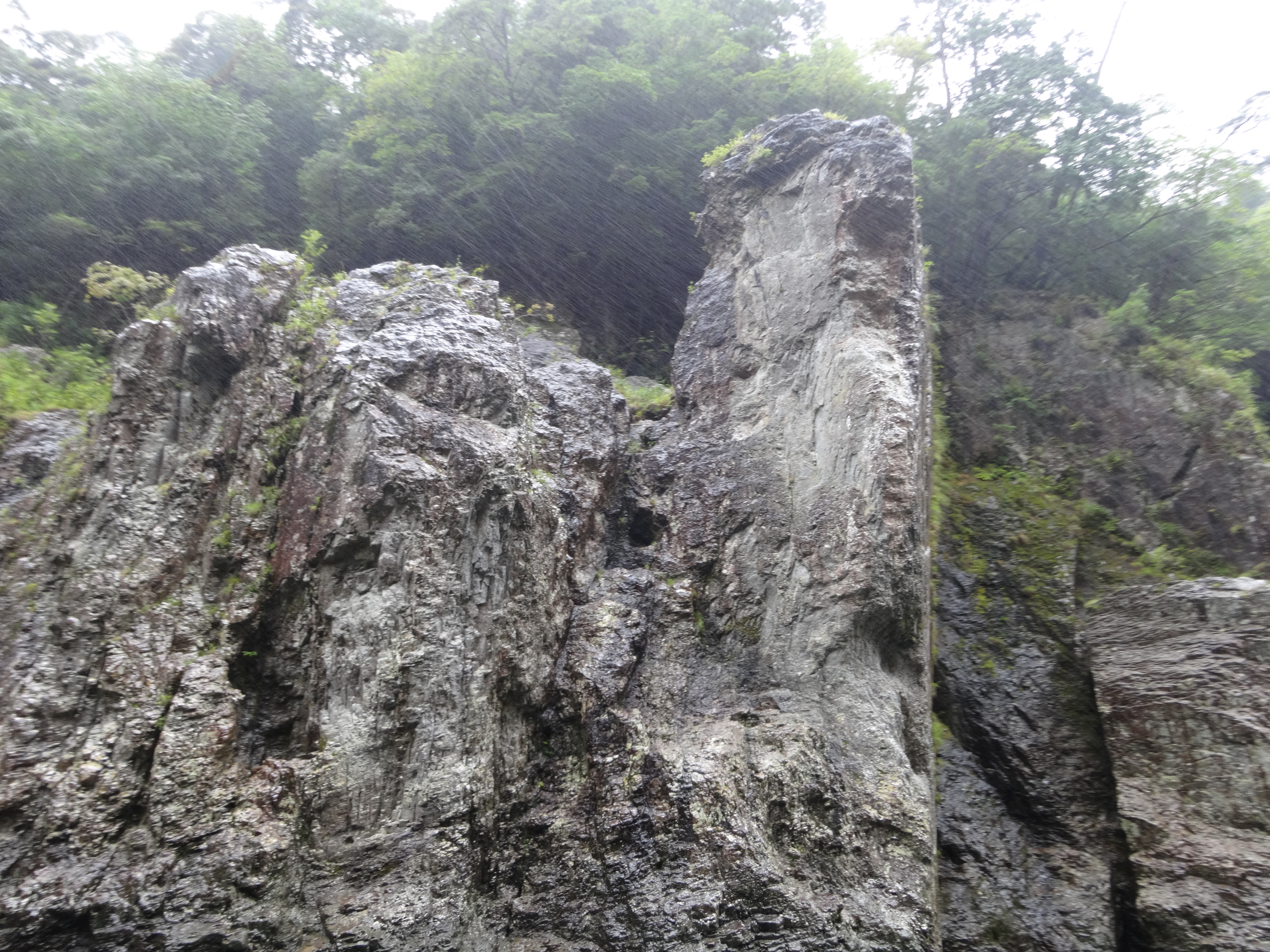 I didn't know that there was such an amazing place in Japan! There was a beautiful view just like a landscape painting stretching out in front of me; emerald green water, sheer cliff faces closing in on both bank, and trees of vivid green color.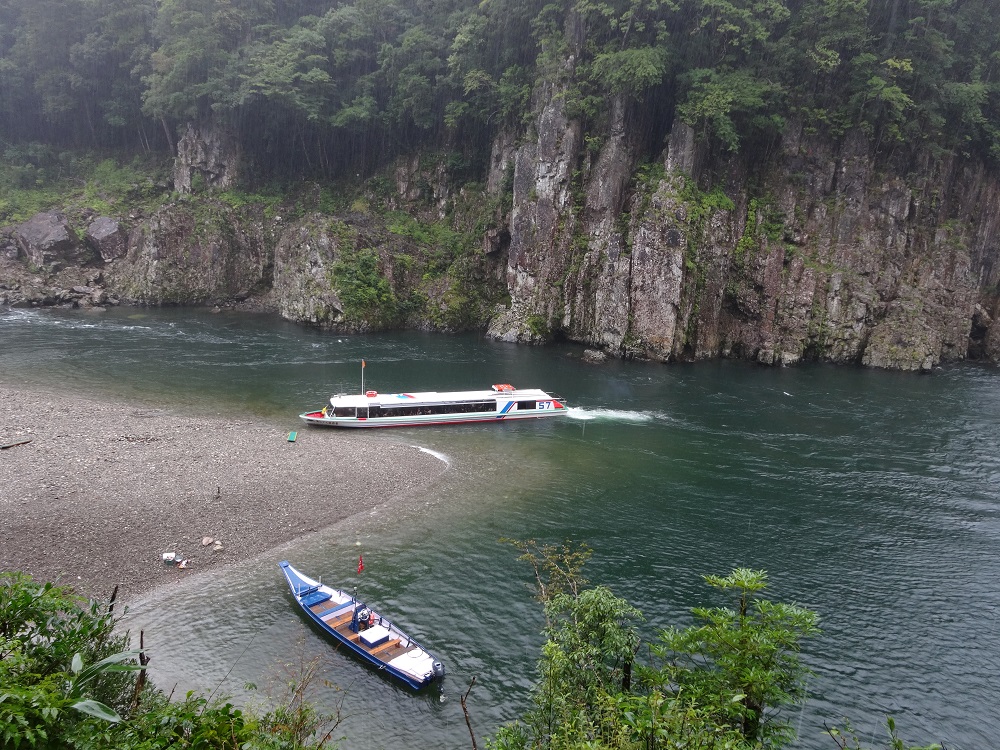 As I rode a water-jet boat, I could enjoy viewing its scenic beauty more deeply.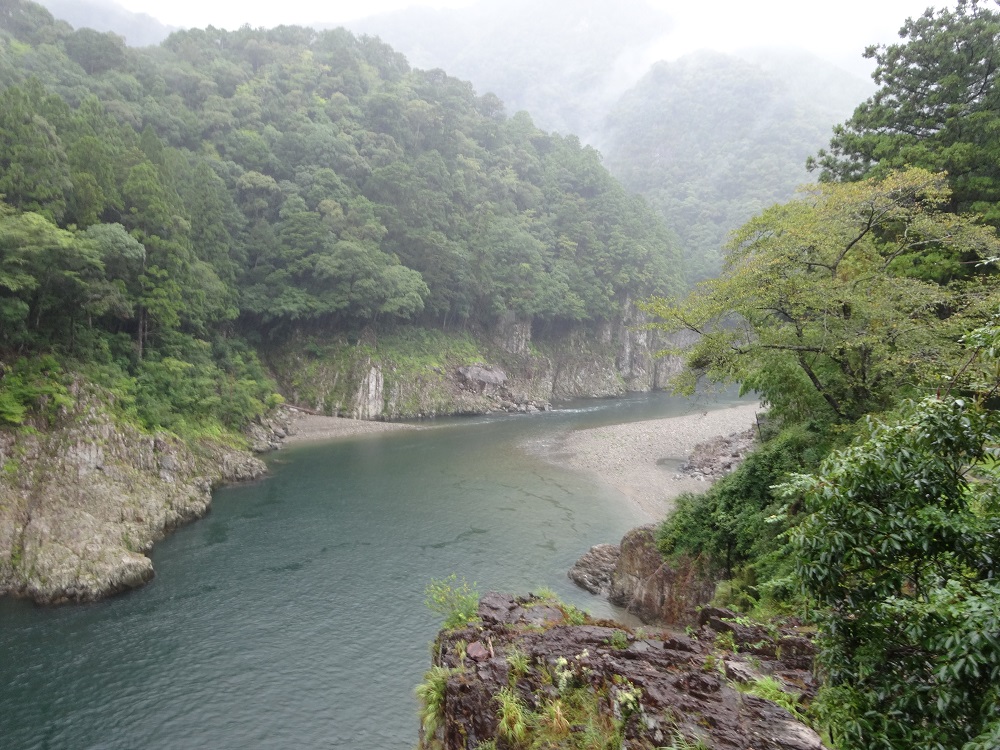 The view from the Yamabiko Bridge is also splendid! In autumn, it will be breathtaking panorama with the gradation of several colors.
Refresh your mind with negative ions at Jyu-ni Fall!
Totsukawa is the largest village in Japan located in the south of Nara. This is a very correct place to be called "unexplored regions" in the deep mountains. One of the most beautiful waterfalls in Totsugawa village is the Jyu-ni (twelve) Fall with a fall of 100 m. The calm and clear waterfall gushing out of rocks, blended with the surrounding green, is so impressive that words are not enough to describe its beauty.
Satisfy your appetite with local specialties♪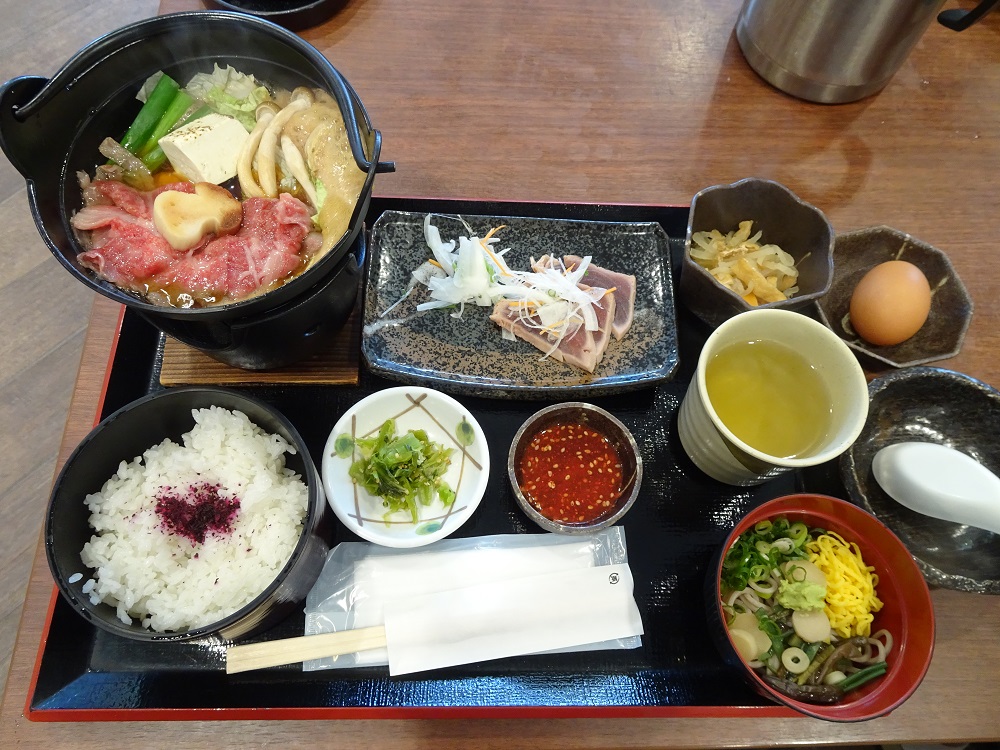 A delicious meal will gain the level of tour satisfaction. Savor 「Sukiyaki (hot pot) of famous Kumano beef」 and very rare 「Tataki (chopped fish) of Tuna」 for lunch!

Having heard my experience, you really want to go this tour to refresh your mind, don't you? At the end tour, do not forget to buy special products found only in this place for souvenirs. Please consider to add this outstanding tour for your trip to Japan. That will become an unforgettable memory for you!