Course No. : Y007Z
(From Shinjuku)Mt.Fuji & Hakone 1-Day Tour
Just JPY 4,500 from Shinjuku to Fuji & Hakone
No trip to Japan could ever be complete without seeing Mt. Fuji! On this one-day tour, explore the breathtaking mountain, discover hellish valley, and cruise along a beautiful crater lake. Surely there is no better way to enjoy Hakone area and majestic Mt. Fuji than with this bus tour.Consider the other ways to get to Hakone from Tokyo. Train ticket costs at least JPY 2,000 just for one-way which does not include the transfers between spots. You will need extra costs and time to reach each sightseeing spot. Besides, it is not only about the cost. If you take a bus tour, you do not need to worry about carrying baggage, wasting time for waiting trains or buses, or frustrating of getting lost! Have a limited amount of time and want to get the most out of your visit to Fuji and Hakone? Then, this is the tour for you!
※This price is valid for a limited period only (September –December) .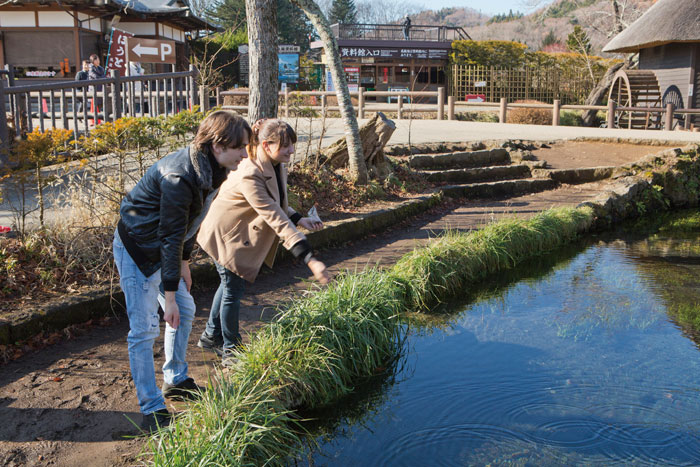 This is my trip experience to Fuji 5th station, Owakudani and Lake Ashi with a bus tour. I will give you some advice what you should do at each point! You can enjoy Hakone & Mt. Fuji tour more if you read this!!
Easy departure from Shinjuku
Meeting the tour at Shinjuku, the center of Tokyo!It is easily accessible from most of the train routes; JR Shinjuku Station, Tokyo Metro, Metropolitan Subway, and Seibu Railway. You will find your tour leader holding a flag with our pretty "Wow bus" logo. There are so many convenience stores opening 24 hours, so why don't you buy drinks and snacks before departure?
①Drive to Mt. Fuji 5th Station on Fuji Subaru Line
Mt. Fuji, the tallest mountain in Japan, is an iconic symbol of the country for its magnificence. Climb the slopes of Mt. Fuji on Fuji Subaru Line, while sitting comfortably on the bus and enjoying beautiful scenery. When you get off at Mt. Fuji 5th station, you are already at 2,305 above sea level, called as "the border of heaven and earth", located near the forest limit ! Cool even in summer and feel the gentle breeze!! For many this is the starting point for hiking Mt. Fuji, and there are a number of souvenir shops and restaurants.
Well, it is little early for a lunch but we get up early so let's have something to eat. Do you want to try something you can eat nowhere but here? Then go to "Miharashi Kitchen" and try "erupting curry rice" or "red Mt. Fuji rice with hashed beef". It will be more delicious while viewing magnificent views of Mt. Fuji! If you are looking for a light meal, try Mt. Fuji-shaped melon-flavored bun, which you can only buy at "Resthouse" at the 5th station.
※It is not guaranteed that Mt. Fuji is definitely seen. There will be no refund for such cases.
※The Fuji Subaru line may be closed due to weather and road conditions, in which case an alternative will be offered. No refunds will be made for this change. Thank you for your understanding.
②Is this…hell? Stroll in the Owakudani, a volcanic valley
Now we are heading to Owakudani, which literally means 'great boiling valley'. Owakudani was formed around 3000 years ago at the time of Mt. Hakone's eruption and here you still can have a multi-sensory experience of heat, smell, sound and taste. White steam hisses out of cracks in the earth, and a strong smell of sulphur pervades the bleak valley!! You will be reminded how great the forces of nature are by watching still on-going volcanic activity just in front of you.
※The walking and hiking trails around Owakudani might be closed due to volcanic activity.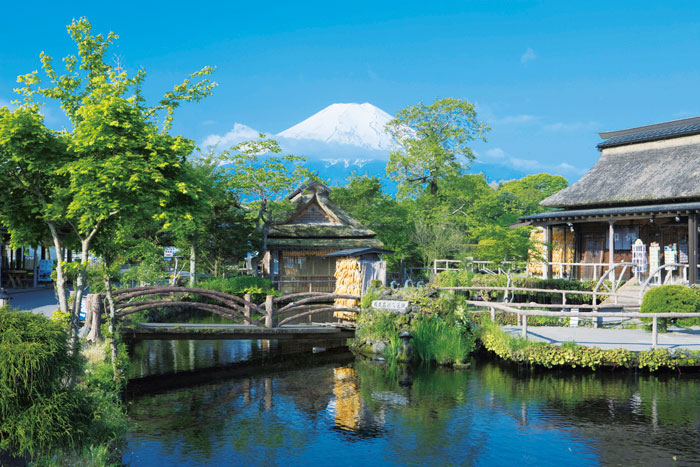 The must-go place in Owakudani is 'Tamago-chaya' store . Hike up the mountain and buy and eat 'Kurotamago' (black egg) at around 1050meters above sea level. Eating one of these is said to length your lifespan by 7 years! ※5 eggs for JPY 500.
Many kinds of souvenirs in addition to Kurotamago can be found at the shops in Owakudani. Enjoy shopping to find typical Japanese souvenirs for your friends or family. Owakudani is also famous for being the filming lcation of EVANGELION, a popular Japanese science-fiction animation, so you can find related goods. Don't forget to take a picture in front of famous Kurotamago monument!! If you are lucky, you can have a picture taken with Mt. Fuji in a sunny day!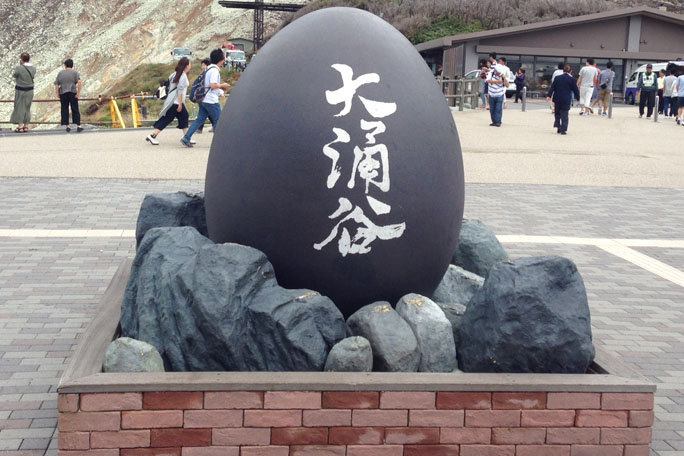 ③Enjoy a scenic cruise on the immaculate Lake Ashi
When going down the slopes of Hakone, the shimmering lake started being seen. This is Lake Ashi, a famous scenic spot where Mt. Fuji can be seen. This thin and long lake, with a circumference of about 20 km, was formed in the caldera of Mt. Hakone after volcano's last eruption 3000 years ago. 'A reverse Fuji' (Mt. Fuji reflected in the water) can be seen on the glassy surface of the lake on a sunny day.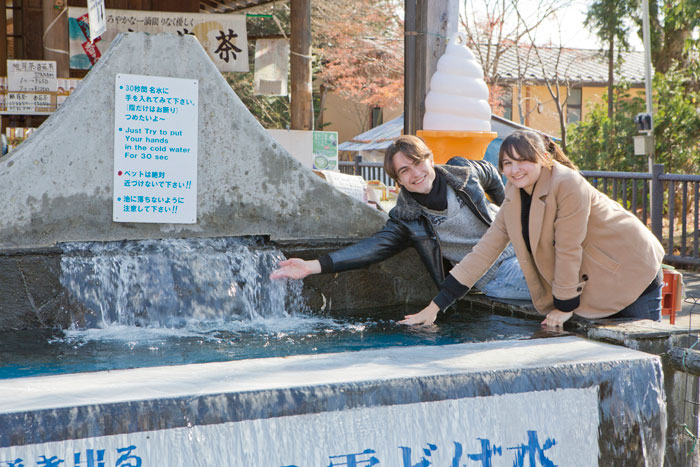 Now, speaking of Lake Ashi, the best way to explore is to take one of the sightseeing boats! We rode the most popular boat, which is shaped like a pirate ship. The 30 minutes ride was very exciting as if I became a crew in a pirate ship. The model of the boat is a battleship in Europe and the whole boat is a full–scale replica with battleship decoration. On board you can have a photo opportunity with real pirates. Certainly the ship makes viewing Mt. Fuji all the more memorable. You can forget daily life while enjoying the scenic views.
※The pleasure boat service is suspended for bad weather, in which case an alternative will be offered.
Take a nap on the bus while on your way back to Tokyo
I was exhausted from all day sightseeing in Fuji and Hakone area. Now I can relax in the tour bus to Tokyo without worrying to ride and transfer a crowded train or bus. I bought many souvenirs without hesitation because I did not need to worry about carrying it♪This fulfilling Fuji and Hakone tour is just JPY 4,500 during bargain! You will never find out this reasonable price. The tour operates from 1 participant that makes you easy to form a plan! Don't miss this absolutely amazing chance. Make a booking now! Don't miss this absolutely amazing chance. Make a booking now!