My travel article in Kyoto
Course No. : Y009Z
(From Shinjuku)Mt. Fuji & Hakone 1Day Bus Tour
The tour itinerary will be changed upon the season. Please see our website for more details.
Traveling to Mt. Fuji & Hakone area from Shinjuku by bus is the best way!
No trip to Japan could ever be completed without seeing Mt. Fuji! On this one-day tour, view the breathtaking mountain from an original Japanese village, stroll around an old hot spring town, and cruise along a beautiful crater lake.Surely there is no better way to enjoy Hakone area and majestic Mt. Fuji than with this bus tour.Consider the other ways to get to Hakone from Tokyo. Train ticket costs at least JPY 2,000 just for one-way which does not include the transfers between spots. You will need extra costs and time to reach each sightseeing spot. Besides, it is not only about the cost. If you take a bus tour, you do not need to worry about carrying baggage, wasting time for waiting trains or buses, or frustrating of getting lost! Have a limited amount of time and want to get the most out of your visit to Fuji and Hakone? Then, this is the tour for you!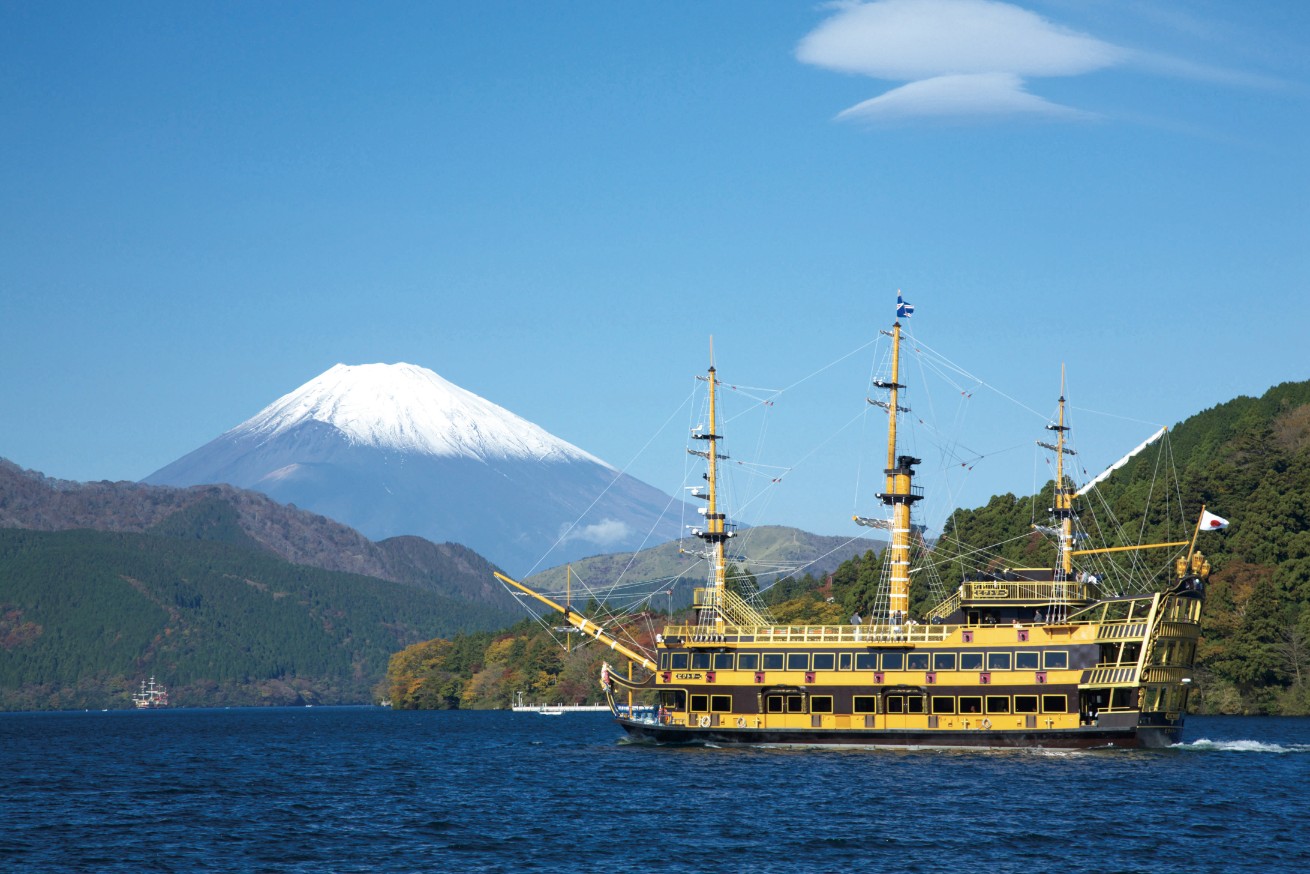 <Hakone Sightseeing Cruise>
This is my trip experience to Oshino Hakkai, Hakone hot spring town and Lake Ashi with a bus tour. I will give you some advice what you should do at each point! You can enjoy Hakone & Mt. Fuji tour more if you read this!!
Easy departure from Shinjuku
Meeting the tour at Shinjuku, the center of Tokyo!It is easily accessible from most of the train routes; JR Shinjuku Station, Tokyo Metro, Metropolitan Subway, and Seibu Railway. You will find your tour leader holding a flag with our pretty "Wow bus" logo. There are so many convenience stores opening 24 hours, so why don't you buy drinks and snacks before departure?
| | | |
| --- | --- | --- |
| <Shinjuku Center Building > | | <Bus Tour Departure> |
①Oshino Hakkai: Beautiful natural eight ponds from Mt. Fuji's underground water
As a result of volcanic eruptions, many ponds have formed around Mt. Fuji area. Among those ponds, one of the most famous is "Oshino Hakkai"(Hakkai means 8 ponds). The inverted image of Mt. Fuji reflected on the pond surface is breathtaking beautiful. This is also a part of the UNESCO World Heritage Sites. In old times people wishing to climb Mt. Fuji came here first to purify themselves by washing in the eight ponds. Why don't you also experience the sacred power?
Each pond has its own special story. If you want to get stronger power, visit all ponds in accordance with the decided order!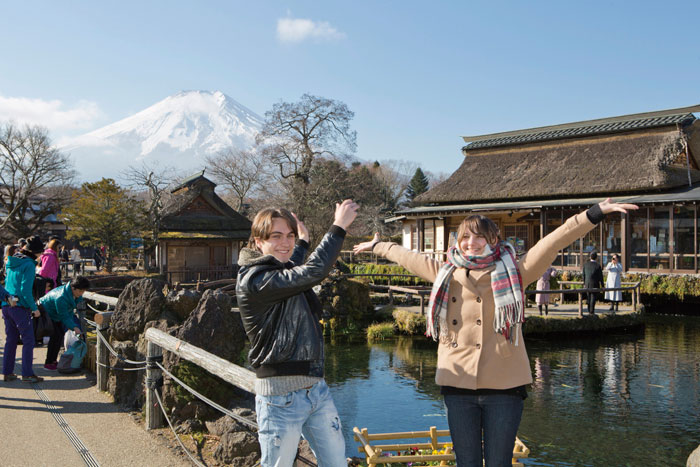 <Oshino Hakkai>
What a beautiful cobalt blue color! Deeply relax by the beautiful color of deep blue.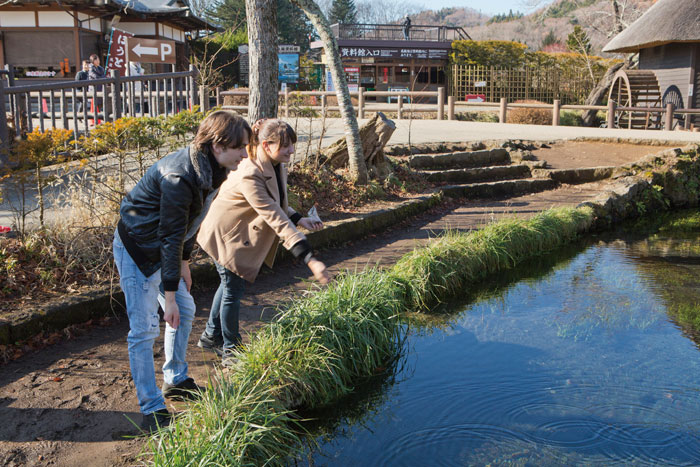 <Oshino Hakkai>
You can see stunning view of Mt. Fuji from here when the sky is clear!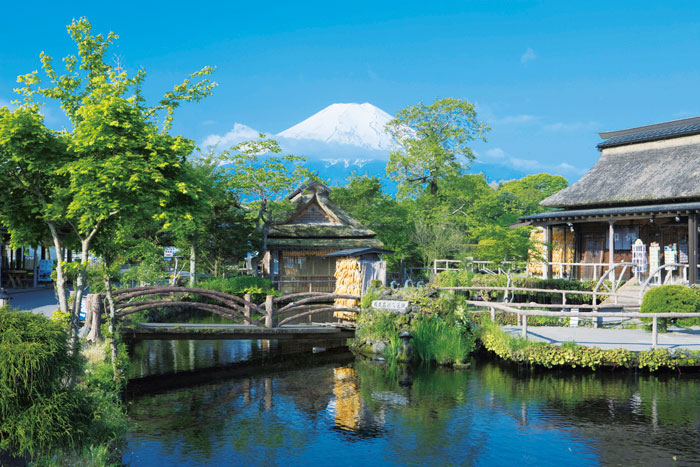 <Oshino Hakkai & Mt. Fuji>
Try coffee made with the spring water from Mt. Fuji. This coffee is mellow and tastes so good!
| | | |
| --- | --- | --- |
| <Pure water from Mt. Fuji> | | <Freshly made coffee> |
Let's have some light meal! We still have time before lunch.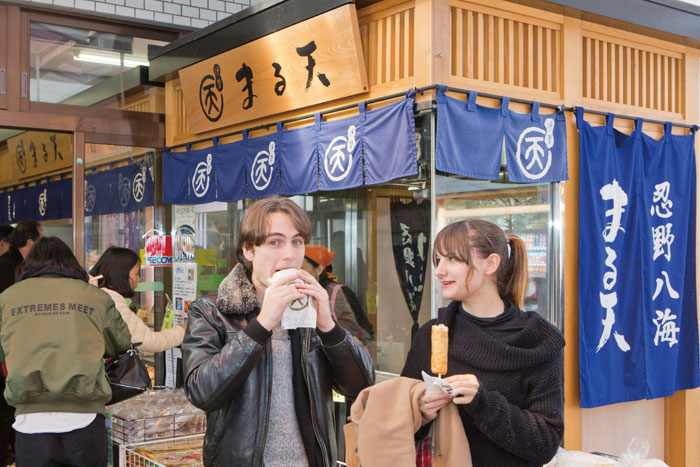 <Japanese snacks>
②Enjoy your time in Hakone; a historic town with numerous hot springs
The hot springs of Hakone first opened approximately 1,200 years ago. Then Hakone has become a popular trip destination for ordinary people. There are over 20 hot springs and each of those have a different spring quality and efficacy. If you have a chance, please try to go to a public bath! Or if you do not have enough time, you can just try "ashiyu"-foot bath!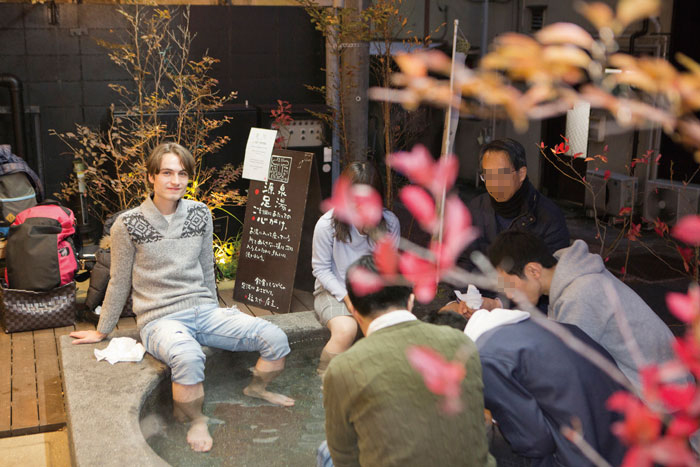 <Foot bath at Hakone>
Let's have lunch here. In front of Hakone-Yumoto station, there is the shopping street where you will find a series of food stalls. Try "Soba noodle", "tofu", "or "bread" made from Hakone's pure water. It tastes so good! There are also so many cozy restaurants where you can enjoy authentic western cuisine! You may try Hakone's specialty or just enjoy lovely coffee and delicious sweets.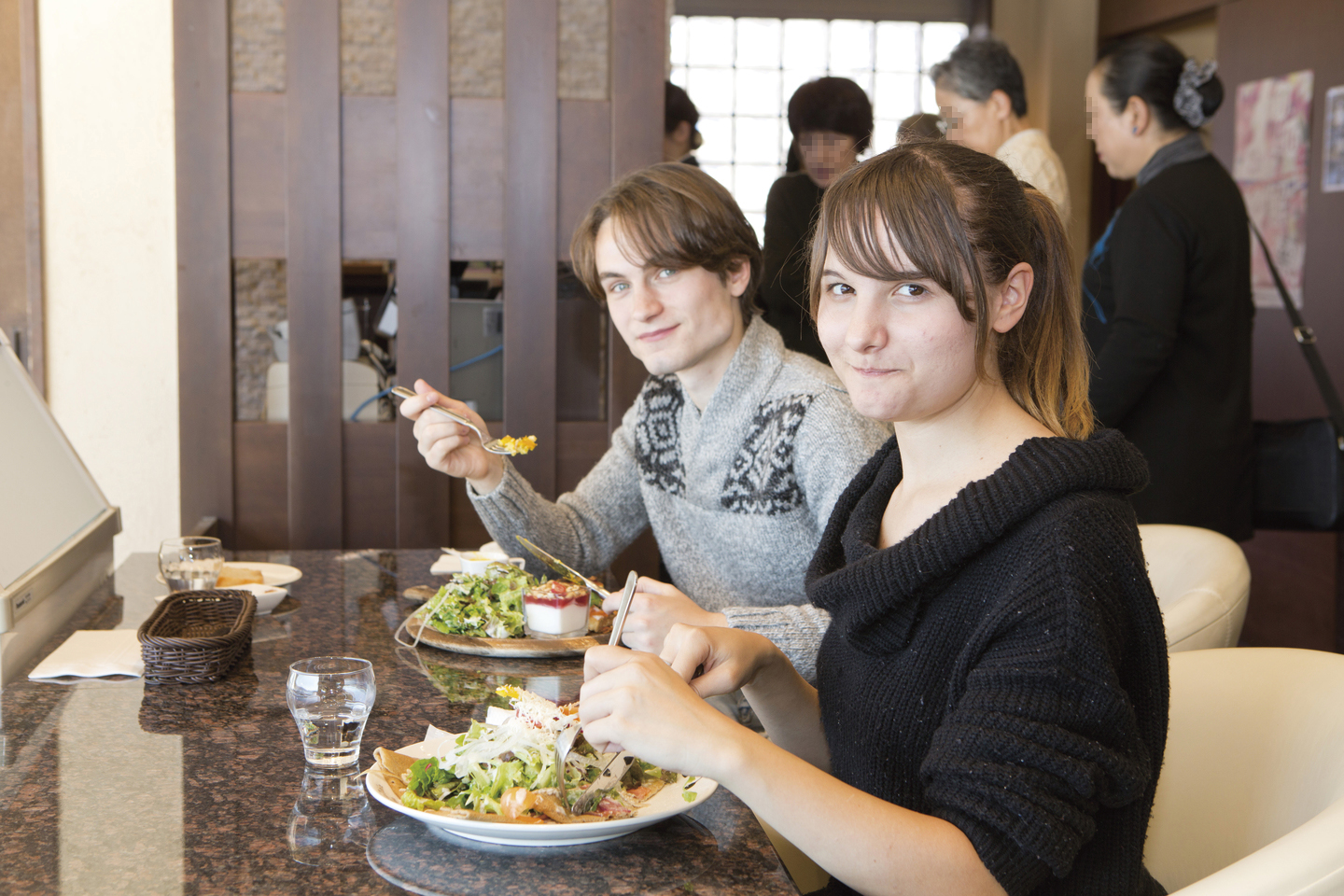 <Lunch at Hakone>
Try various kinds of Japanese food♪
| | | |
| --- | --- | --- |
| <rice cracker> | | <walk and eat Japanese snacks> |
③Enjoy a scenic cruise on the immaculate Lake Ashi
When going down the slopes of Hakone, the shimmering lake started being seen. This is Lake Ashi, a famous scenic spot where Mt. Fuji can be seen. This thin and long lake, with a circumference of about 20 km, was formed in the caldera of Mt. Hakone after volcano's last eruption 3,000 years ago. 'A reverse Fuji' (Mt. Fuji reflected in the water) can be seen on the glassy surface of the lake on a sunny day.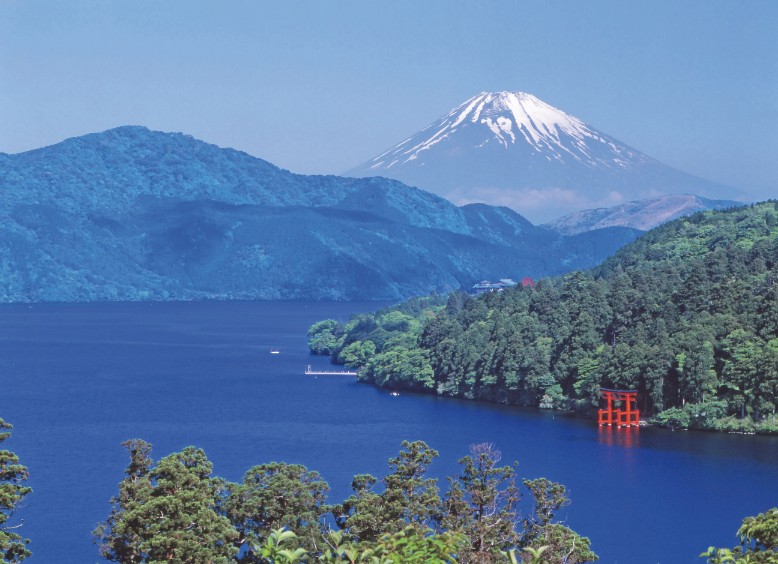 <Lake Ashi & Mt. Fuji>
Now, speaking of Lake Ashi, the best way to explore is to take one of the sightseeing boats! We rode the most popular boat, which is shaped like a pirate ship. The 30 minutes ride was very exciting as if I became a crew in a pirate ship. The model of the boat is a battleship in Europe and the whole boat is a full–scale replica with battleship decoration. On board you can have a photo opportunity with real pirates. Certainly the ship makes viewing Mt. Fuji all the more memorable. You can forget daily life while enjoying the scenic views.
※The pleasure boat service is suspended for bad weather, in which case an alternative will be offered.
| | | |
| --- | --- | --- |
| <pirate ship> | | <on board a pirate ship> |
We could see Mt. Fuji perfectly from Lake Ashi!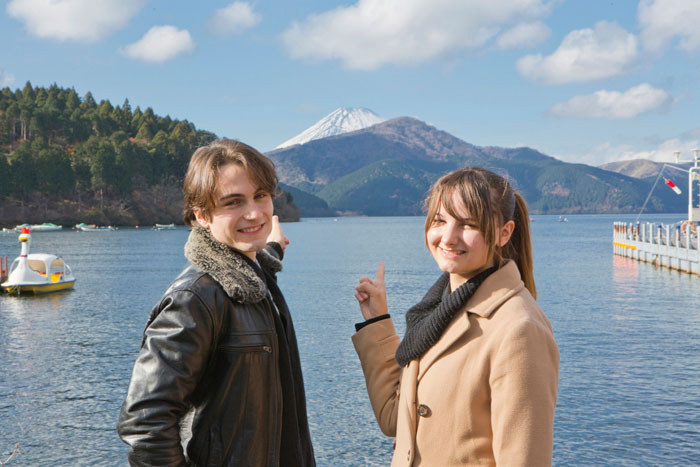 <Mt. Fuji from Lake Ashi>
Take a nap on the bus while on your way back to Tokyo
I was exhausted from all day sightseeing in Fuji and Hakone area. Now I can relax in the tour bus to Tokyo without worrying to ride and transfer a crowded train or bus. I bought many souvenirs without hesitation because I did not need to worry about carrying it♪ The tour operates from 1 participant that makes you easy to form a plan! Don't miss this absolutely amazing chance. Make a booking now!
The tour itinerary will be changed upon the season. Please see our website for more details.