scroll to start reading my trip♪
Course No. : 06471Z3
Special Lunch at Kobe Kitano Hotel & Kobe Concerto Tea Cruise
Have you heard of Kobe as one of the nicest place in Kansai?
You might visit only Kyoto or Osaka when you come to Kansai area, mightn't you? How about visiting another big city Kobe next to Osaka? Kobe, known as a stylish city among Japanese, is easily accessed from Osaka or Kyoto by train without transfer.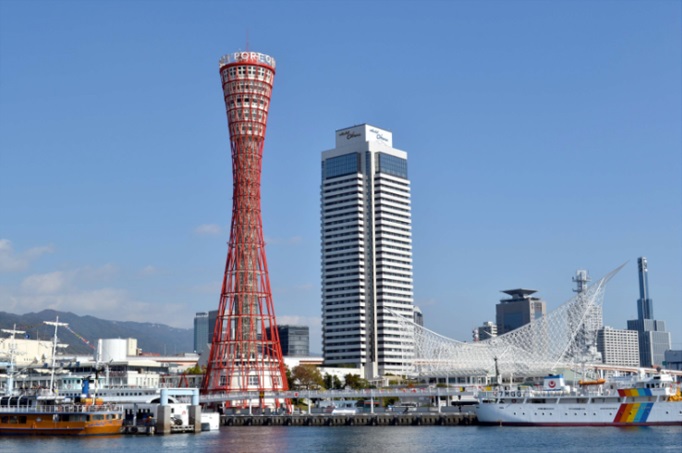 The former foreign settlement town with an exotic atomosphere spreads around the mountain side (north side) of Kobe, and the ocean side (south side) is an habor area lined with chic and fashionable buildings and shops. Feel the unique atmosphere of the port town, Kobe, different with Osaka or Kyoto. Here's the recommended tour covering full of unmissable places in Kobe in a short time.
Meet at the accessible station!
Meet at 11:30 at JR Sannomiya station, the most bustling shopping and entertaining area in Kobe city. It takes around 30 minutes from JR Osaka Station, around 55 minutes from JR Kyoto station. The meeting time is just before noon, so it is easy to participate wherever you stay.
Savor chef's original special lunch!
At 11:50, I started walking from Sannomiya station to the mountain side and soon arrieved at the famous 『Kobe Kitano Hotel』! The chic, European taste interior decoration is like a castle of the middle ages of Europe. There is no doubt at a glance that this is a name hotel. I definetely will stay here at the next opportunity・・・
| | | |
| --- | --- | --- |
| | | |
| | | ※The contents of meal differ at each season. |
Now, it is the time for the long-awaited lunch! The chef trained under Michelin 3 star restaurant considered original menu! That is worthy of the name hotel of 『the world's best breakfast』 ! I had a scrumptious lunch!
A different spacial dimension of foreign culture and history
At 13:00. I started walking from Kitano Hotel to the mountain side, and arrived to the area of Kobe Ijinkan(former foreign residences). The port of Kobe was opened in 1868 and soon it became a politically distinct area and many foreign diplomats and tradesmen established their home around there. Yes, that's why the atmosphere of Kobe is different with the other cities in Japan. Don't miss the best shutter chance!
Finally it is the time for boarding a short cruise
At 14:30, Concerto sails from Kobe Harborland. We used a taxi to the boarding point. I was glad to participate this tour so that I did not need to walk under the hot sun. Now, it is time for 『Concerto』. The ship, featuring live music, departed the port slowly and started 90 minutes mini tea cruise. Boarding a ship itself is extraordinary. I was so happy and excited!
The red steel Kobe Port Tower appeared in my sight from the deck, and then a big ship-yard (if you are lucky, you will see submarines) and Suma Alps mountains, that were not able to be seen while in the city. Nice refreshing breeze makes me comfortable. I felt my mind was being clear and pure viewing the shining vast ocean and feeling the cooler sea breeze.
The longest suspending bridge; the Akashi Kaikyo Bridge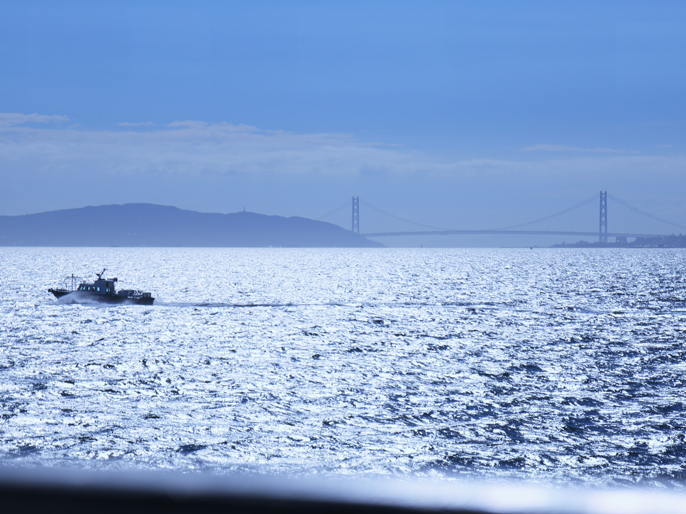 The final point of this cruise is the Akashi Kaikyo Bridge with a total length of 3,911m. This is the world's longest suspension bridge, gathering in an all-out technology of Japan. I got captivated by the spacious view. Then, the ship started returning to the port.
Enjoy various desserts while listening live music in the ship♪
This tea cruise includes various desserts. Those are original Mango pudding, popular 『Andrew's Egg tart』, and so on. I could enjoy several different tastes, those of which are all so delicious! Live music is played in a hall. I felt I was like a celebrity when I enjoy desserts while listening live music and viewing an ocean. I was extremely satisfied with this 90 minutes cruise.
Enjoy more with the beautiful night view of Kobe after the tour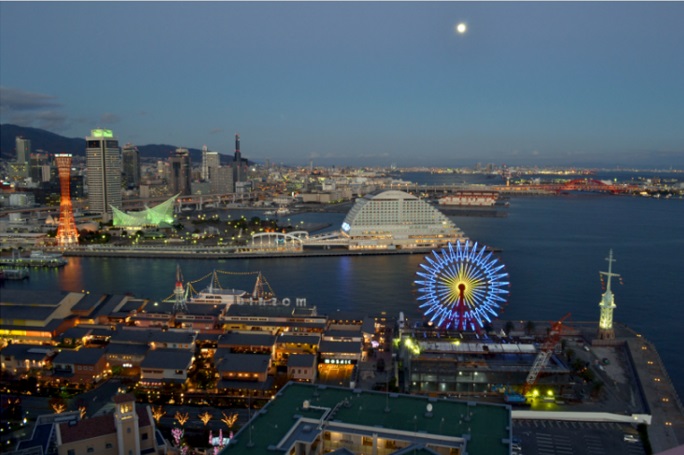 At 16:30. The tour ends when the ship retunes to the starting point (Kobe Harbor Land 1st floor 『MOSAIC』). It is still too early to go home so why don't you stay at Kobe for a while and enjoy the famous night view of Kobe?

This fully enjoyable and exceptional Kobe tour is extraordinary price of JPY 6,990!
No wonder this tour is so popular!
Does my story make you want to take part in this tour?
Please make a booking for your next trip to Japan.