My travel article in Kyoto
Course No. : Y006Z1
(From Osaka)Kyoto 1-Day Bus Tour
The tour itinerary will be changed upon the season. Please see our website for more details.
Visit Kyoto's 4 best spots from Osaka!!
This is our recommended tour for you staying around Osaka station and planning to visit Kyoto. It takes around 30-40 minutes by train from Osaka to Kyoto. Besides, the bus terminal at Kyoto Station is always crowded. Especially during the peak of cherry blossoms and autumn leaves, you need to stand in a queue to buy tickets. Further, you will have a hard time to look for a bus stop or change the bus on the way. Also, in some cases you are required to change to another train.This is so complicated even for Japanese, and it often happens that you arrive to somewhere you did not expect.(※References:《JR Osaka St. →JR Kyoto St.》 One way: about 30 – 40 minutes/JPY 590. 《City bus in Kyoto》JPY 230~)

Now, take one-day Kyoto bus starting from Osaka (Umeda and Namba) that will be your solution to problems of carrying baggage, waiting on a long bus line, or frustrating of getting lost♪Have a limited amount of time and want to get the most out of your visit to Kyoto? This is the tour for you!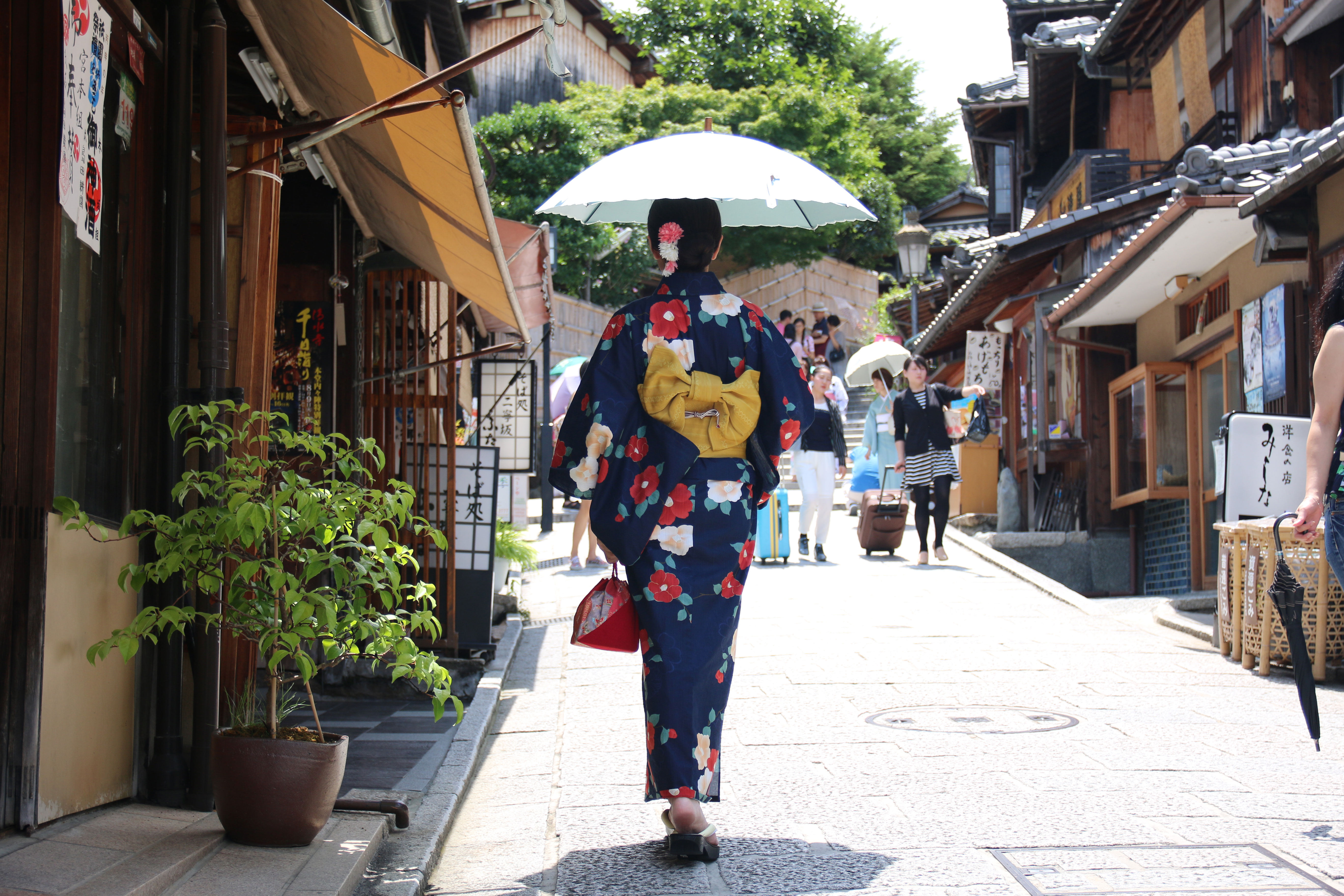 This time, I took a tour bus leaving Osaka in the morning and visiting 4 famous sightseeing spots in Kyoto; Fushimi-Inari, Kiyomizu-dera Temple, Kinkaku-ji Temple, and Arashiyama. While on the bus, our English-speaking guide told us about the best points and gave us the freedom to choose where we spend our time and money at each destination. I fully enjoyed experiencing Japanese elegance in the ancient capital Japan, Kyoto.
Not so early departure from Umeda or Namba
You can choose your departing area from one of two city centers of Osaka, Umeda (West Umeda parking) or Namba (Namba Parks, shopping complex located in front of Namba station). It is easily accessible from most of the hotels in Osaka.
The meeting place of Umeda/Osaka will be changed to 'Hotel New Hankyu Osaka 1F Lobby' from April 2019.

※There may be times when the order of the tour itinerary is reversed or changed depending on the situation.
①The most popular landmark in Kyoto, Fushimi Inari Shrine
"Fushimi Inari" was awarded #1 in TripAdvisor's "Top Japanese landmarks" for 3 consecutive years.How incredible the vermilion torii-lined pathway is!! This is called "Senbon Torii", literally means a thousand of shinto gates. This location was once used for shooting a Hollywood movie, and some people come here yearning the movie scene.
Torii gates continue up the mountain.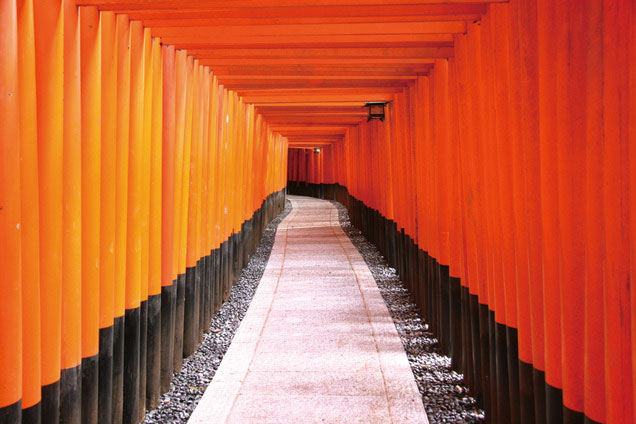 ©Fushimi Inari Taisha
So many fox statues are around the site, as foxes are belived to be messengers of Shinto God Inari.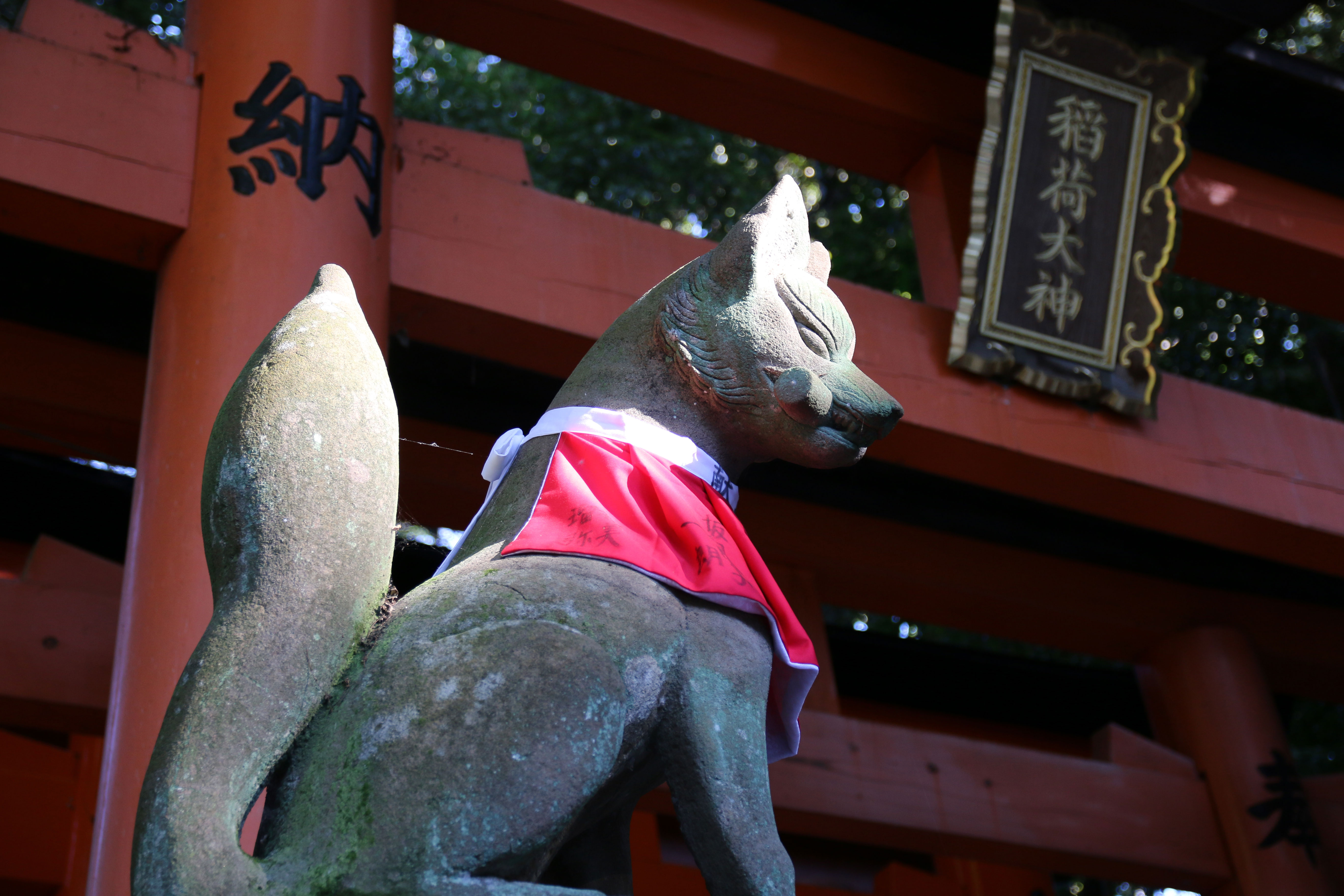 ②UNESCO World Heritage Site:Kiyomizu-dera Temple
This will be the most celebrated temple in Kyoto. At tourist guidebooks or other travel pamphlets, you've might seen the picture of a large wooden stage of the main hall, supported by tall pillars, that juts out 13 meters above the hillside below. From February 2017, the main hall is covered up for the renovation of its roof, but visitors are still allowed to enter the main hall and have the chance to take a glimpse at the works in progress. In a good sense, this will be a perfect experience to see the internal structure. (The temple aims to complete all works by 2020)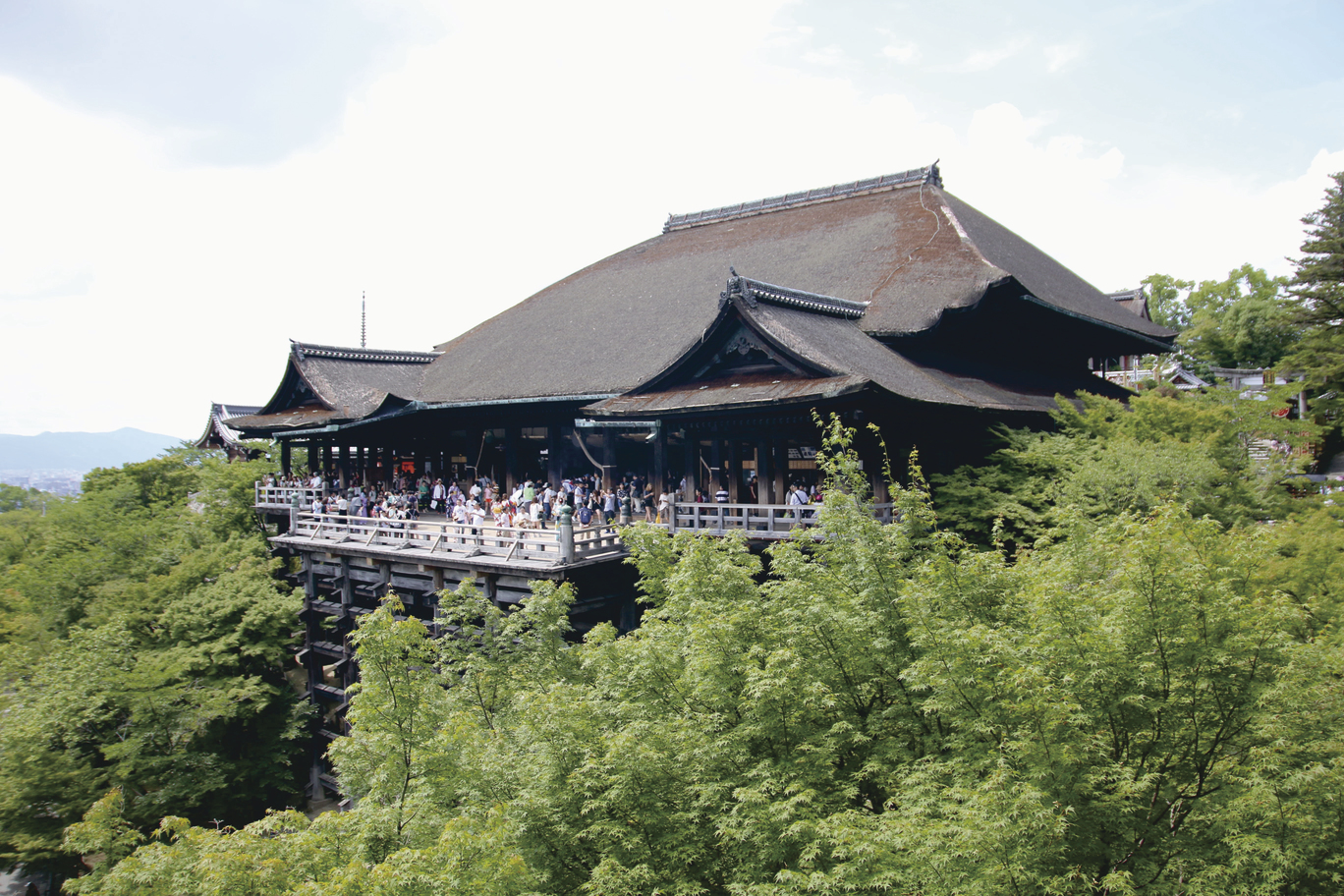 The Otowa Waterfall is also famous at the Kiyomizu-dera. The temple derives its name from the fall's pure waters. There is always a long line of people who want to drink the waters divided into three streams. Each stream of water is said to have different benefits, namely to cause longevity, success in school, and a fruitful love life. However, it will be considered greedy to drink from all three streams, so make sure you choose carefully.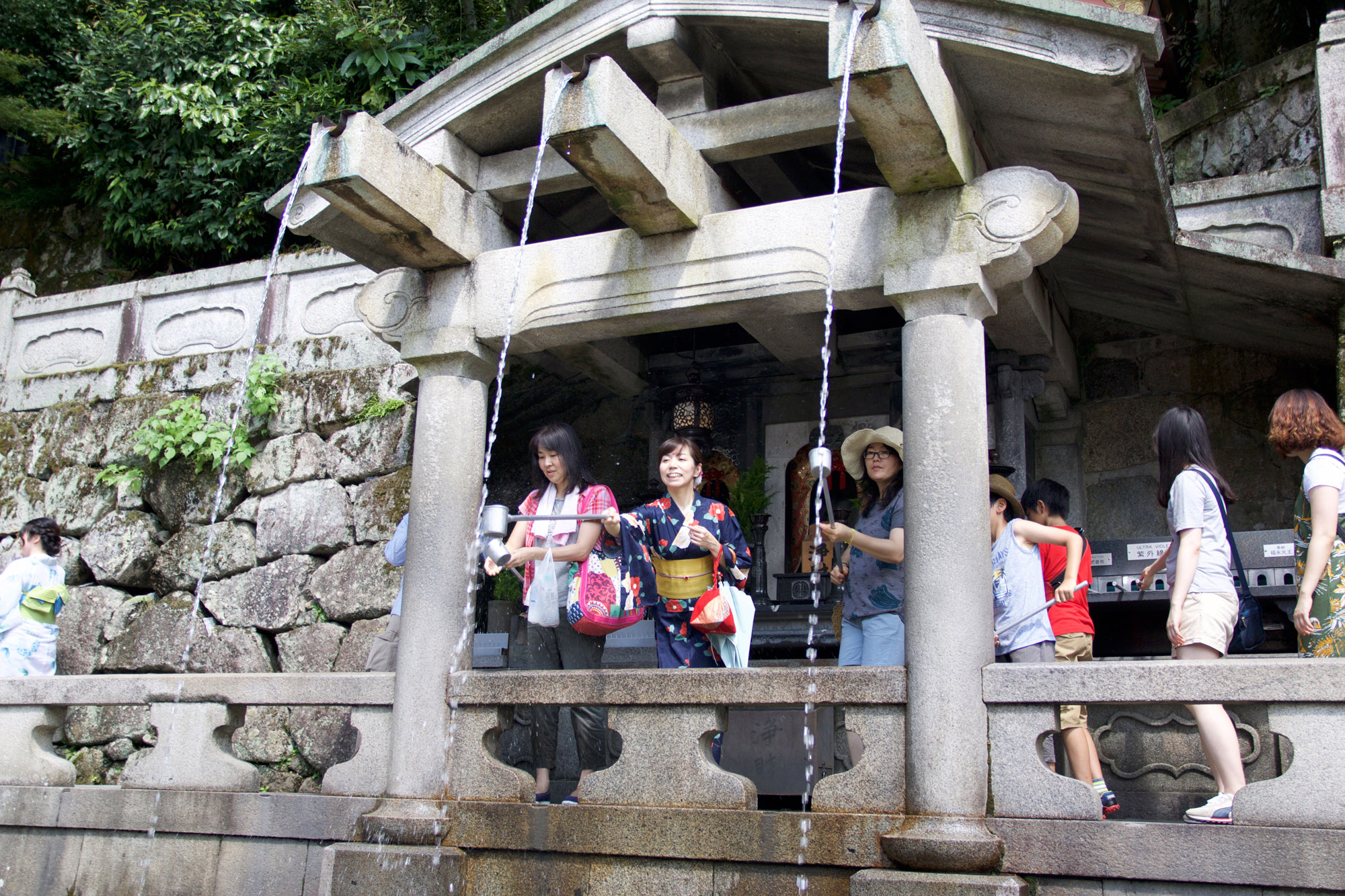 Behind the main hall stands Jishu Shrine, which is also a shrine worshipping the deity of love and matchmaking. There are two stones at the precinct, placed 10 meters apart. Successfully finding your way from one to the other with your eyes closed is said to bring luck in finding love…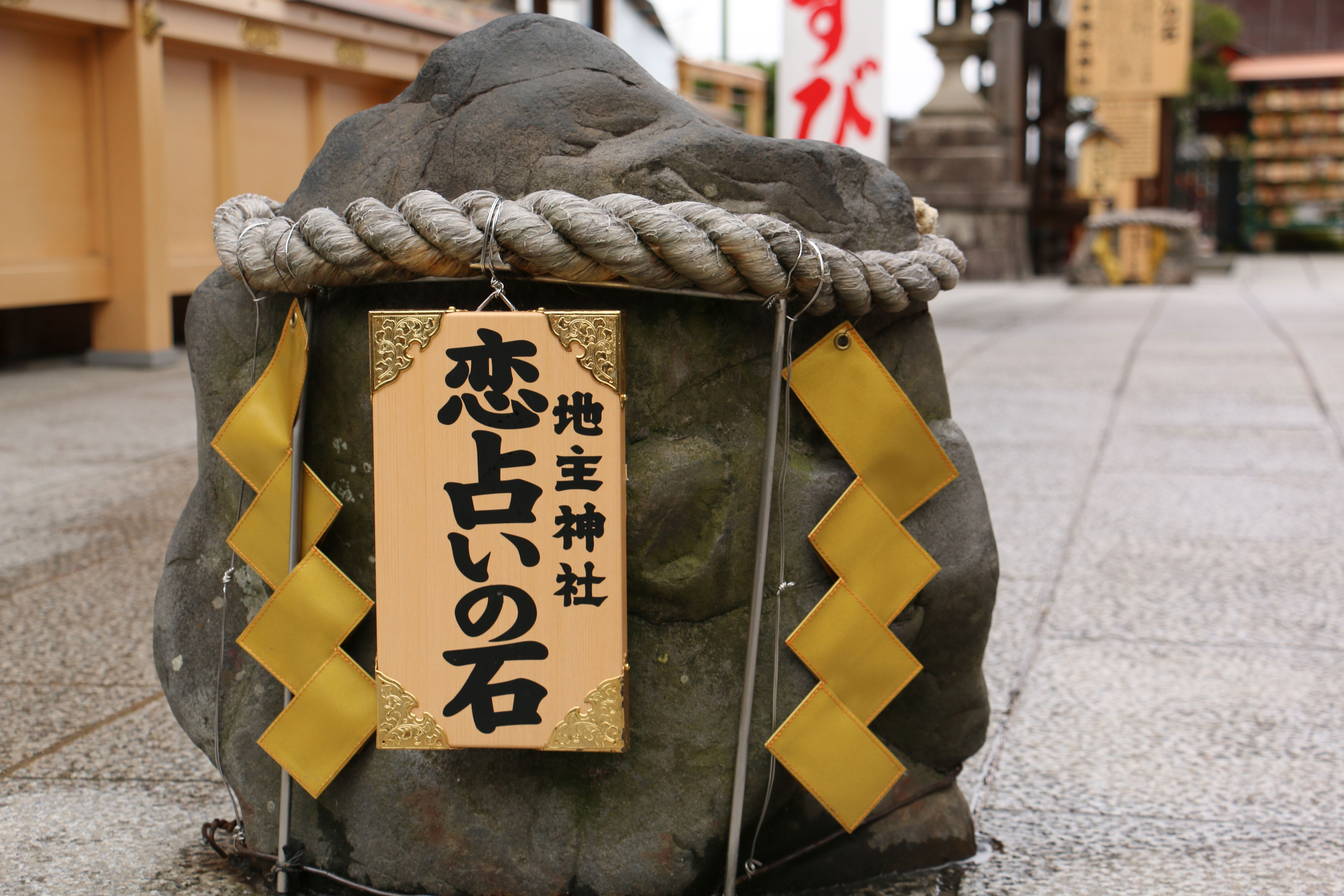 Experience old times?! Stroll Kyoto's most attractive streets♪
Steps leading down from Kiyomizu-dera Temple. There are two of Kyoto's most attractive streets, Sannei-zaka and Ninen-zaka. With beautiful atmospheric streets, lined are restored wooden shophouses of Japanese-style accessories and confectionery. Enjoy shopping to find traditional typical Japanese souvenirs for your friends or family.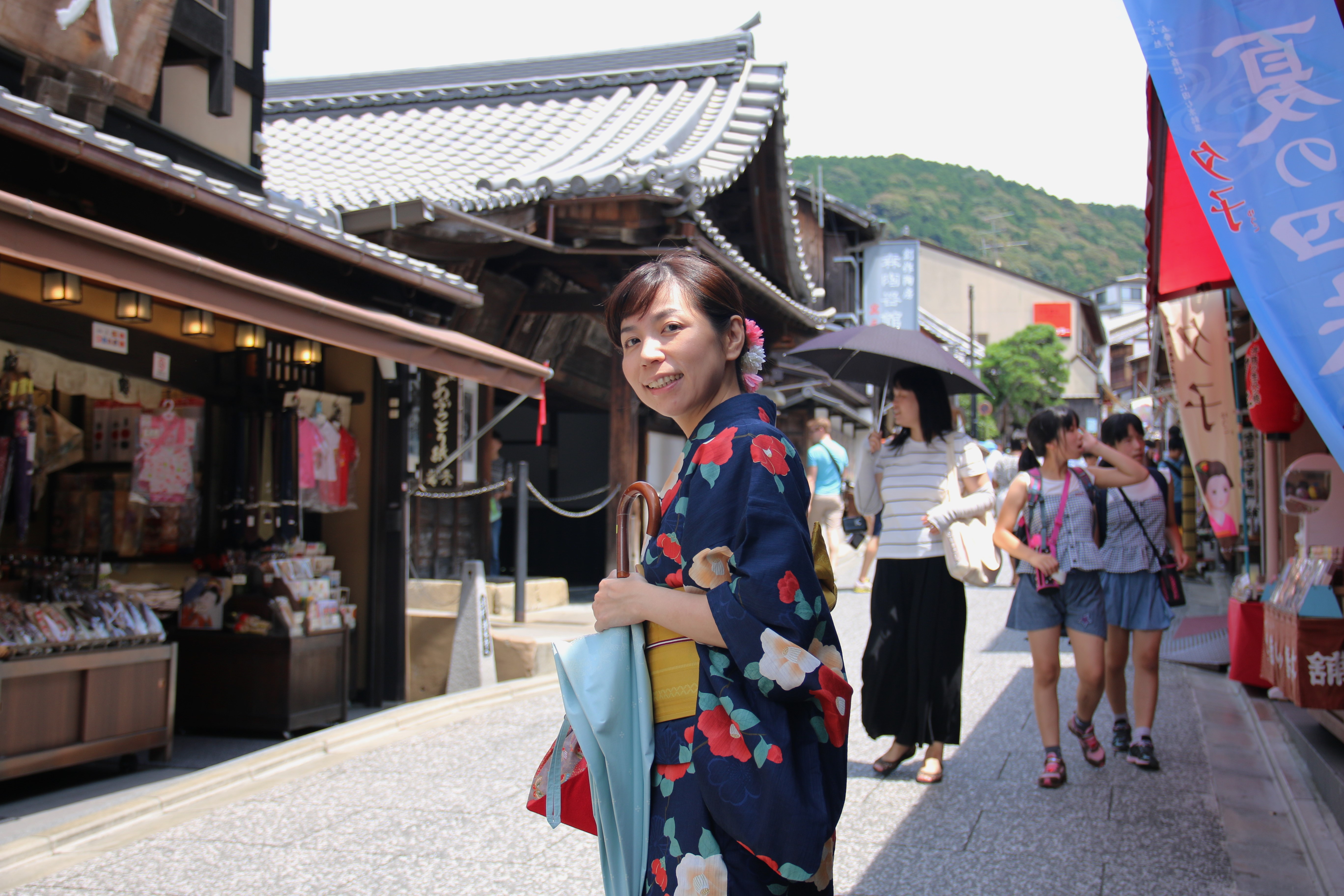 ③Japan boasts to the world: The Temple of the Golden pavilion
It is about time to visit Kinkaku-ji Temple, which was designated a UNESCO World Heritage Site! The official name of the temple is "Rokuon-ji" with an extensive precinct but the magnificent reliquary hall decorated with gold leaf is famous in particular as Kinkaku-ji Temple (the Golden Pavilion), which suddenly appears on the other side of the pond. Sadly, the pavilion was burned down in 1950 by a young monk who envied the beauty of the pavilion. The event was later fictionalized as "The Temple of the Golden Pavilion" by the renowned author Yukio Mishima (The present pavilion was rebuilt in 1955). The pavilion shows different presence at each season. In the standard viewpoint of feng shui, the temple is located at a sacred place.
④Time flies in Arashiyama. Relax in Bamboo Grove♪
Arashiyama is well-known for its scenic beauty.There are a lot of famous sightseeing places in Arashiyama, so let's start taking pictures of Togetsu-kyo Bridge that has often used in films or guidebooks. Beautiful Japanese scenery is spread out there especially when Mt. Ogura is covered with cherry blossoms and autumn foliage that makes our heart at ease.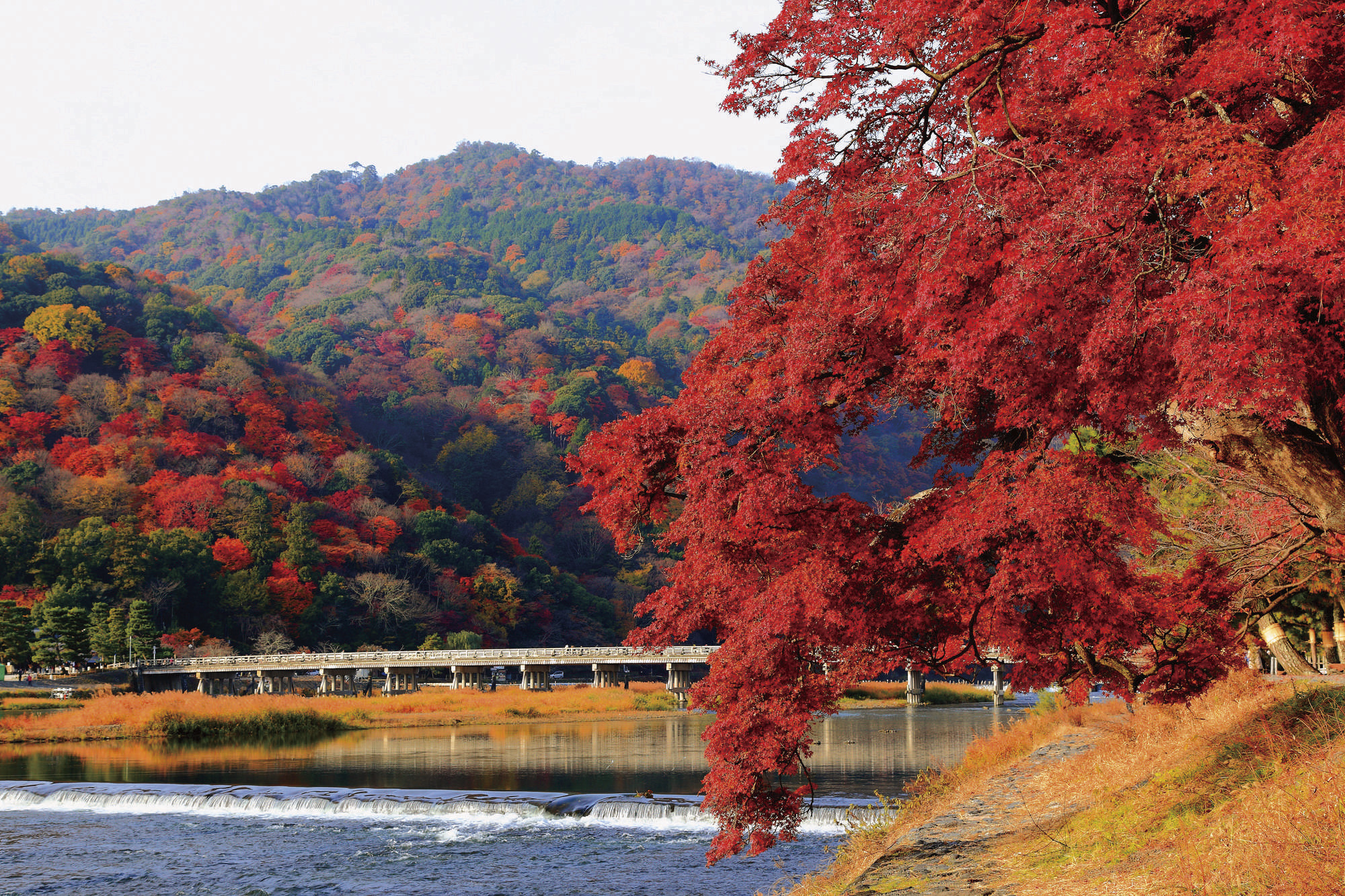 After passing the street of souvenir shops, you will enter Arashiyama's most famous "bamboo groves". Let's stroll the quiet pathway and enjoy the otherworldly atmosphere as if entering the world of an old tale. If you still have times, a visit of "Tenryu-ji Temple", a UNESCO World Heritage Site, known for its noteworthy garden, is highly recommended.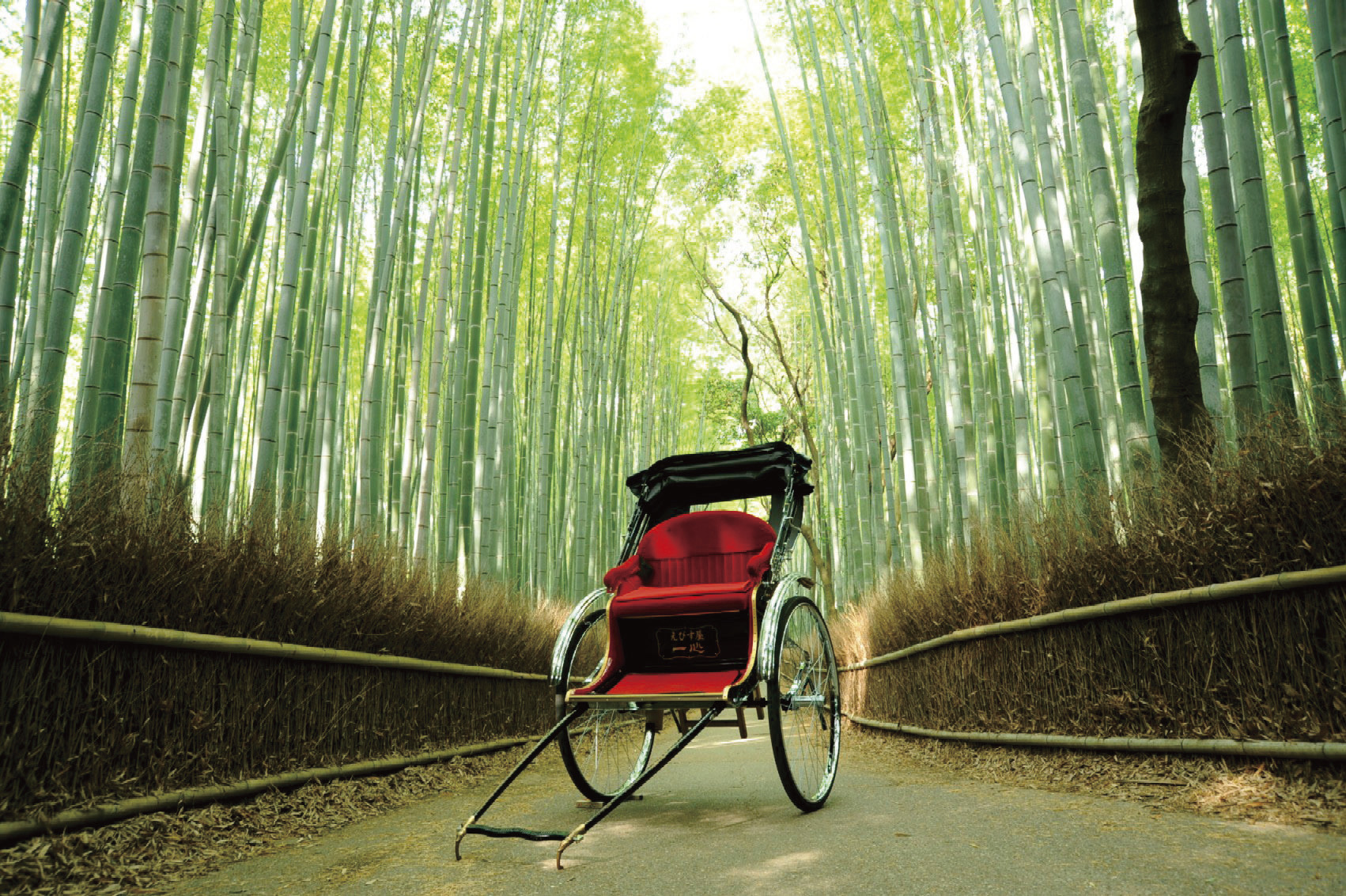 Take a nap on the bus while on your way back to Osaka
I was exhausted from walking so much in Kyoto's four important sights. Now I can relax in the tour bus to Osaka without worrying to ride and transfer a crowded train or bus. I bought many souvenirs without hesitation because I did not need to worry carrying it♪

This fulfilling Kyoto tour is so reasonable with an English speaking guide! The tour operates from 1 participant that makes you easy to form a plan! Don't miss this absolutely amazing chance. Make a booking now!
The tour itinerary will be changed upon the season. Please see our website for more details.