Course No. : Y008Z
【From Osaka】Nara & Kyoto One-Day Bus Tour (1-Day) 《Feb.-Apr. 2018》
Great bus tour to see the highlights of Kyoto and Nara in a day!
Japanese ancient cities, Kyoto and Nara. You may want to visit both cities. Do you think it is difficult to visit two cities in a day?
Not really. This tour will give you an overview of the most important historical sights in Kyoto and Nara. Moreover, you do not need to worry about carrying heavy baggages or transferring trains and buses in the busy cities. An English- speaking guide accompanies the tour, so you can more enjoy sightseeing places with detailed explanations. Your guide also share a lot about Japanese culture, food, work, traffic, leisure activties...that you will be a lot of fun in the trips. This time, why don't you use a bus tour and experience the attractiveness of Kyoto and Nara? We would have no hesitation to recommend the tour to you!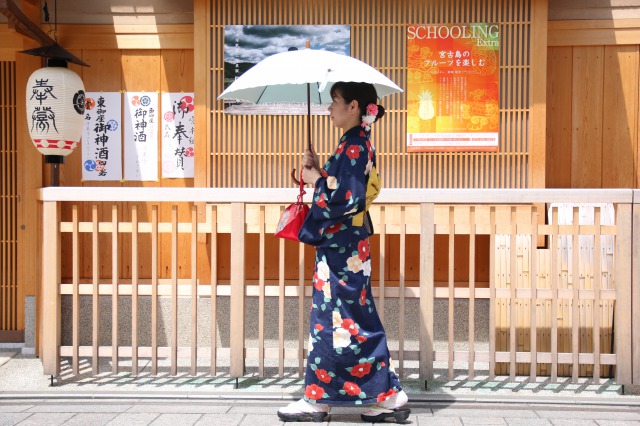 <Image of Kyoto>
Shichijyo area of Kyoto is the first stop. Then you will have free time for lunch and to stroll through the Gion area. Gion is known for its many delicious dishes, and you can try Kyoto's specialties here. In the afternoon, after a leisurely drive through the plains of southern Kyoto you reach Nara, a beautiful city rich in history and culture. Nara park is a landscape of magnificent temples, towers and shrines. You will then be able to immerse yourself in the magnificent history and culture of this wonderful city on an extended walk through the two parts of the park, Kasuga Taisha Shrine and Todai-ji Temple. The tour ends at Todai-ji Temple, and around 5:00pm you will start the return journey to Osaka. There is a lot of free time during this tour, so options are numerous.Immerse yourself in the historical and impressive architectural temples or indulge yourself in tasting matcha tea. A tour to Kyoto and Nara is one to be cherished and rememberd forever.
This article is about my experience of participating this tour that includes recommended points for each destinations. You can prepare well before visiting Nara and Kyoto by reading this!
Departs from the center of Osaka, Umeda and Namba!!
You can choose the meeting points from Umeda (West Umeda Parking) or Namba (Namba parks =big shopping facility in front of Namba station), the two of the centers of Osaka. It is accessible from any hotels in Osaka. At the meeting point, your guide is waiting you with pretty flag with Wow!bus logo. (The tour starts from Umeda, so another person is checking at Namba parks).
| | | |
| --- | --- | --- |
| <Bus departure> | | <Tour bus> |
※There may be times when the order of the tour itinerary is reversed or changed depending on the situation.
①Admire the Thousand Armed Kannon at Shichijyo area
The largest historical wooden building in Japan is Todai-ji Temple in Nara. How about the longest historical wooden building in Japan? The answer is Sanjusangendo temple in Kyoto. The length of the temple is 120 m (395 feet)! In the building, set are the 1,001 golden statues of Kannon, the goddess of mercy.
The temple's official name is Rengeo-in which means "Temple of the Lotus King Kannon-bosatsu" and is dedicated to Kannon, who have a mercy to save any kinds of people. In the center of the great hall sits a large version of the deity, while rows of human-sized statues line the flanks. In the end of 12th century, the people of Kyoto belived that the end of the world was approaching and many buildings for Kannon was established to save people in their next life. It is said that if you stare at the statues long enough you see the face of departed loved ones in the face of the bodhisattvas.
※The entrance fee does not included. JPY 600 / per adult
| | | |
| --- | --- | --- |
| <Outside view of Sanjusangendo>提供:妙法院 | | <Inside view of Sanjusangendo>提供:妙法院 |
There is a famous old Japanese confectionery shop near Sanjusangendo temple. At this long-established wagashi confectionery, you can buy seasonal wagashi sweets. They are so beautiful in colors, shapes and designs. If you have a time, you can also have a tea at the inside cafe. Not only the exterior but also the interior has a Japanese traditional style, so you can enjoy the atmosphere of an old Japanese house. Here you can enjoy delicious cups of tea brewed to perfection and sweets that are sure to please!
| | | |
| --- | --- | --- |
| <Kyoto style snacks> | | <Japanese Wagashi Confectionery Shop> |
②Lunch at Kyoto's most attractive town, Gion♪
Once you've arrived at the parking lot in front of Chion-in temple, it takes about 10 -15 minutes to walk to the center of Gion through Maruyama park, one of the Kyoto's most popular spot for cherry blossom viewing in April. There are some truly gorgeous places to see in Gion. "Hanami Koji" street is part of the old town where you can experience the graceful "Kyoto" atmosphere. It is so elegant and tranquil・・・This may be the most attractive street loved by both residence and visitors. Its stone-paved streets and lattice lined houses are an awe-inspiring site to see. There are several geisha homes so you may be able to meet with Maiko or Geisha if you are lucky. This is really the best location to take pictures of Kyoto♪
| | | |
| --- | --- | --- |
| <Hanami-koji streets> | | <lattice lined houses at Gion> |
At Gion, there are many "ryotei" – a particular type of high-class Japanese traditional restaurant. Those restaurant are known for "members only", and you may hesitate to enter. Don't worry. During lunch time, you can enjoy Kyoto style lunch with very reasonable price. Highly recommended here are "tofu cuisine", "bubuzuke-hot tea on rice", and "Obanzai"! Obanzai is homestyle cooking with a Kyoto flavor. It is known for its seasonal ingredients and simple but comforting taste.
| | | |
| --- | --- | --- |
| <Obanzai-ryori in Kyoto> | | <Tempura and soba noodles are also famous in Kyoto> |
After lunch, you can explore pretty souvenir shops on Shijyo streets or enjoy Matcha sweets at cozy cafe. Gion Shirakawa is also a must-visit, where you can soak up the unique atmosphere of Kyoto♪You can take a lot of nice pictures and spend times wandering along the Shirakawa river, admiring the sites.
| | | |
| --- | --- | --- |
| <Gion Shirakawa> | | <Gion Shirakawa> |
③Enjoy World Heritage sites in Nara park
Take a nap for a while after lunch, and you are already in Nara! Nara was the capital city of Japan 1300 years ago! Look! Cute guides come to welcome you! Yes, over 1,200 wild shika deer are freely roaming around the park, classified as natural treasure. Nara park is very wide, and the area including the grounds of Todai-ji temple, Kofuku-ji temple, and Kasuga Shrine. You can buy deer cracker at nearly every corner and feed deer. But be careful not to be bitten!!
| | | |
| --- | --- | --- |
| <Deer cracker is JPY150> | | <Deer around Nara Park> |
| | | |
| --- | --- | --- |
| <Give me the paper!> | | <cross a crossroad> |
④Historical and magnificent Kasuga Taisha Shrine with 1300 years of history
Kasuga Taisha Shrine is located east corner of Nara Park, established about 1300 years ago to protect the capital city at the time. The interior is famous for its many bronze lanterns, as well as the many stone lanterns that lead up the shrine. The total numbers of bronze and stone lanterns are more than 3,000 and this is the most numerous in Japan. It is so Nara like that deer shows their face between stone lanterns♪ Try to find a stone lantern with the curve of deer face!
| | | |
| --- | --- | --- |
| <stone lanterns and deer> | | <bronze lanterns> |
Passing through the approach, and enter the south gate, designated as an important cultural property. You are now in front of the main shrine. By paying special entrance fee, you can enter the main shrine ※Special entrance fee (JPY 500 per adult) is not included for this tour.
| | | |
| --- | --- | --- |
| <South gate> | | <Main Shrine> |
⑤The world largest wooden structure, Todai-ji temple!
After visiting Kasuga Taisha Shrine, we now head to Todai-ji Temple by walking about 15 minutes in Nara Park. We pass the Nandaimon Gate, which is the largest temple gate in Japan with the height of 25.46m. This was built about more than 800 years ago and designated as the national treasure.
| | | |
| --- | --- | --- |
| <Nandaimon gate> | | <Statues of Kongo Rikishi> |
After passing the Nandaimon gate, you can see the roof of Daibutsuden –Great Buddha Hall- !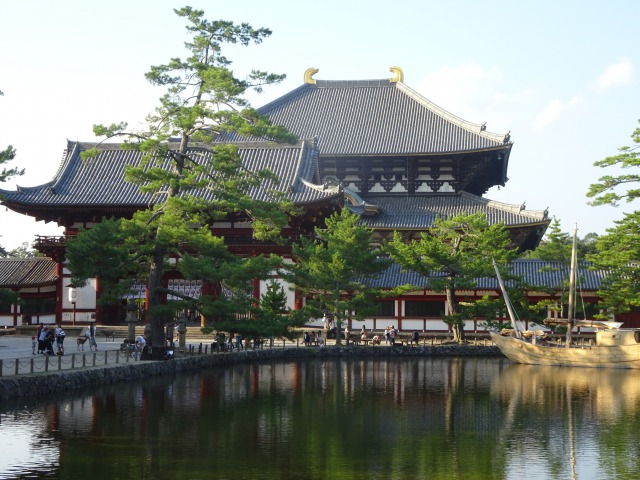 <Daibutsuden>
From the left side, enter the ground of Daibutsuden. Please pay the entrance fee here (※Entrance fee is not included). Look! You can see the world's largest wooden building just in front of you!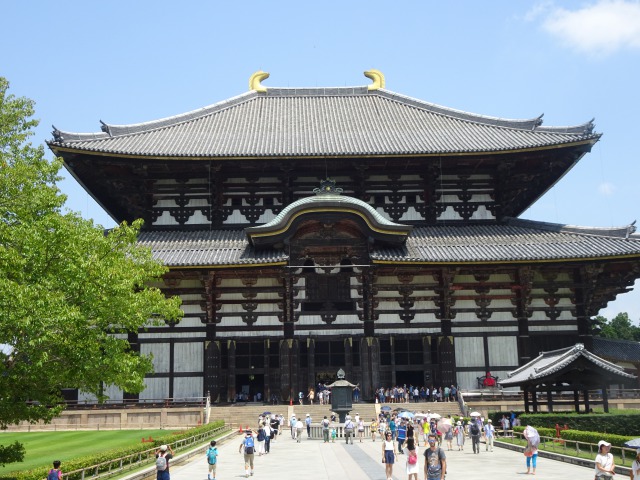 <Daibutsuden -Great Buddha Hall- >
Inside, there is the world's largest bronze statue of the Buddha Vairocana. The heights is about 15m (50 feet)! The great Buddha emits divine light to the far corners of the universe and loves all people as though they were his own children.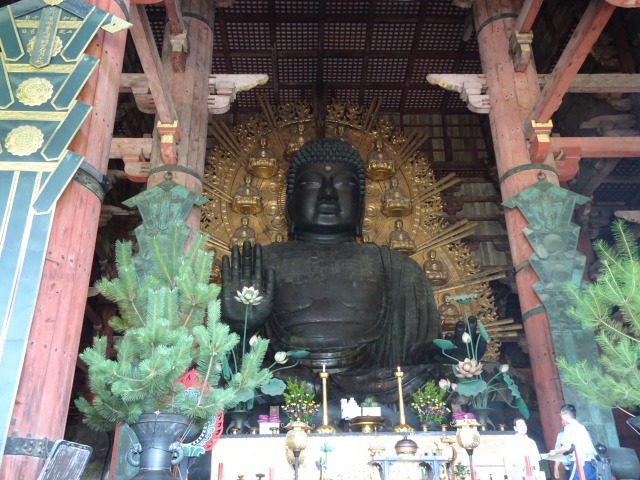 <The great Buddha of Nara:The Buddha Vairocana>
Let's go clockwise. On the way, you can try to go through the pillar hole. If you are small・・・maybe you can. At the other section, you can see the model of the original Todai-ji temple. The original temple complex contained two 100 meter high pagodas!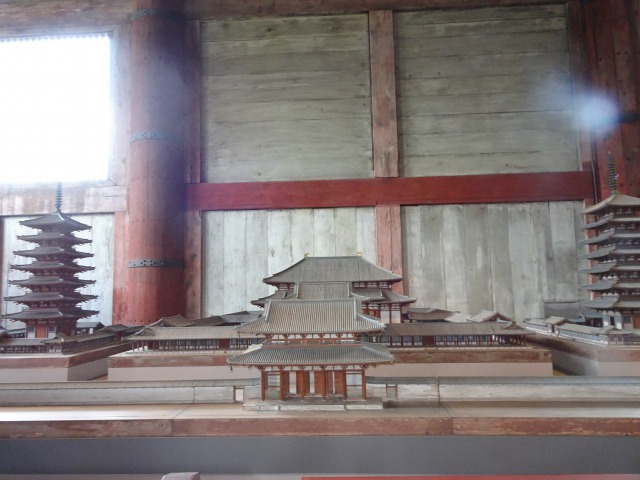 <The model of the original Todai-ji temple>
If you still have time, why don't you go to Nigatsudo Hall, best known for "Omizutori"- a series of Buddhist repentance rituals. From the stage of Nigatsudo Hall, you can get a full view of beautiful Nara city.
| | | |
| --- | --- | --- |
| <Nigatsu-do> | | <City of Nara from Nigatsu-do> |
If you want to relax, you can settle down at a tea house.
| | | |
| --- | --- | --- |
| <Find a nice cafe!> | | <Matcha and sweets> |
Take a nap on the bus while on your way back to Osaka
I was exhausted from walking so much in Kyoto and Nara. Now I can relax in the tour bus to Osaka without worrying to ride and transfer a crowded train or bus. I bought many souvenirs without hesitation because I did not need to worry carrying it♪
This fulfilling Nara and Kyoto tour is so reasonable with an English speaking guide! The tour operates from 1 participant that makes you easy to form a plan! Don't miss this absolutely amazing chance. Advance booking is necessary to reserve a seat!