My travel article in Kyoto
Course No. : Y008Z
【From Osaka】Nara & Kyoto One-Day Bus Tour (1-Day)
The tour itinerary will be changed upon the season. Please see our website for more details.
Great bus tour to see the highlights of Kyoto and Nara in a day!
Japanese ancient cities, Kyoto and Nara. You may want to visit both cities. Do you think it is difficult to visit two cities in a day?
Not really. This tour will give you an overview of the most important historical sights in Nara and Kyoto. Moreover, you do not need to worry about carrying heavy baggages or transferring trains and buses in the busy cities. An English-speaking guide accompanies the tour, so you can more enjoy sightseeing places with detailed explanations.
(※Depending on the departure date, a Chinese-guide will be assigned. Please see the calendar at website).
Your guide also share a lot about Japanese culture, food, work, traffic, leisure activties…that you will be a lot of fun in the trips. This time, why don't you use a bus tour and experience the attractiveness of Nara and Kyoto? We would have no hesitation to recommend the tour to you!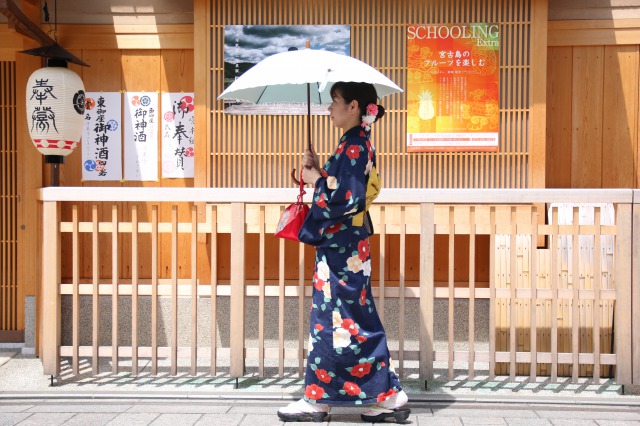 <Gion/Kyoto>
Nara park is the first destination. You will enjoy to see hundreds of deer that wander around bowing and begging for food! Nara Park is also home to one of Japan's most famous temples, Todai-ji. You will have a lunch in Nara, and head to Kyoto for visiting gorgeous Heian Jingu Shrine. At last, you will enjoy a stroll in Gion area where the atmosphere of ancient Japan still remains. You might want to experience of wearing a kimono for your fantastic memories. You have a plenty of time in both Nara and Kyoto, so possible to visit your favorite temples and shrines. The entrance fees are not included but the tour fee is very reasonable to participate♪

Here is an article about this tour. Recommended points for each destinations are included, so you can prepare well before visiting Nara and Kyoto! !
Departs from the center of Osaka, Umeda and Namba!!
You can choose the meeting points from Umeda (West Umeda Parking) or Namba (Namba parks =big shopping facility in front of Namba station), the two of the centers of Osaka. It is accessible from any hotels in Osaka. At the meeting point, your guide is waiting you with pretty flag with Wow!bus logo. (The tour starts from Umeda, so another person is checking at Namba parks).
| | | |
| --- | --- | --- |
| <A guide with Wow!Bus flag> | | <Tour bus> |
※There may be times when the order of the tour itinerary is reversed or changed depending on the situation.
※The arrival time shown in the itinerary is subject to change due to traffic conditions or other unforeseen circumstances.
①Enjoy World Heritage sites in Nara park
Relax with a comfortable, air-conditioned chartrered bus during one hour's ride from Osaka to Nara. Nara was the capital city of Japan 1300 years ago!Look! Cute guides come to welcome you! Yes, over 1,200 wild shika deer are freely roaming around the park, classified as natural treasure. Nara park is very wide, and the area includes the grounds of Todai-ji temple, Kofuku-ji temple, and Kasuga Shrine. You can buy deer cracker at nearly every corner and feed deer. But be careful not to be bitten!!
| | | |
| --- | --- | --- |
| <Deer cracker is JPY150> | | <Deer around Nara Park> |
| | | |
| --- | --- | --- |
| <Give me the paper!> | | <cross a crossroad> |
Let's head to Todai-ji Temple! We pass the Nandaimon Gate, which is the largest temple gate in Japan with the height of 25.46m. This was built about more than 800 years ago and designated as the national treasure.
| | | |
| --- | --- | --- |
| <Nandaimon gate> | | <Statues of Kongo Rikishi> |
After passing the Nandaimon gate, you can see the roof of Daibutsuden –Great Buddha Hall- !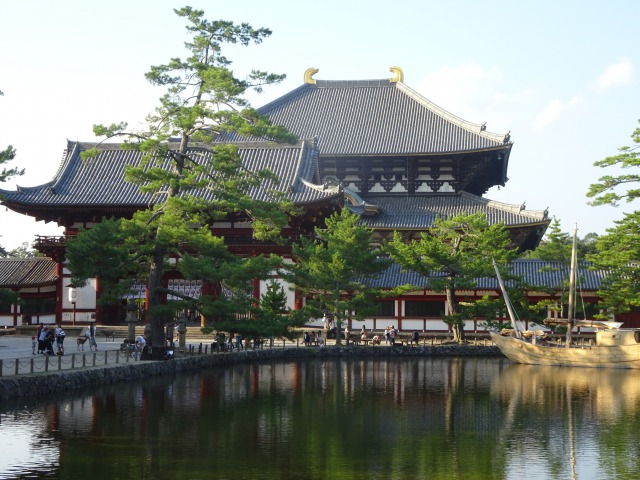 <Daibutsuden>
From the left side, enter the ground of Daibutsuden. Please pay the entrance fee here (※Entrance fee is not included). Look! You can see the world's largest wooden building just in front of you!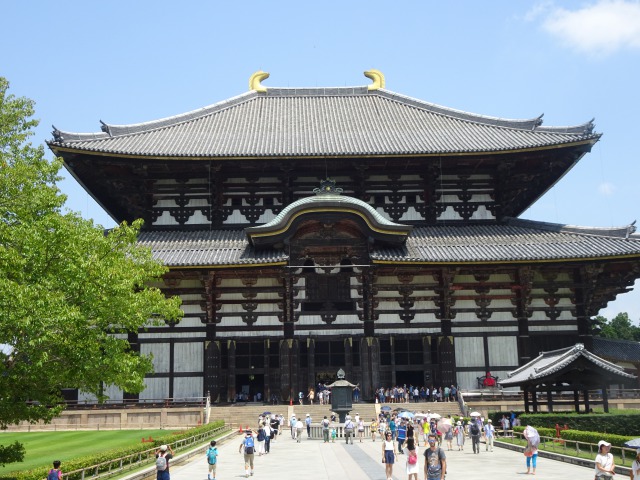 <Daibutsuden -Great Buddha Hall- >
Inside, there is the world's largest bronze statue of the Buddha Vairocana. The heights is about 15m (50 feet)! The great Buddha emits divine light to the far corners of the universe and loves all people as though they were his own children.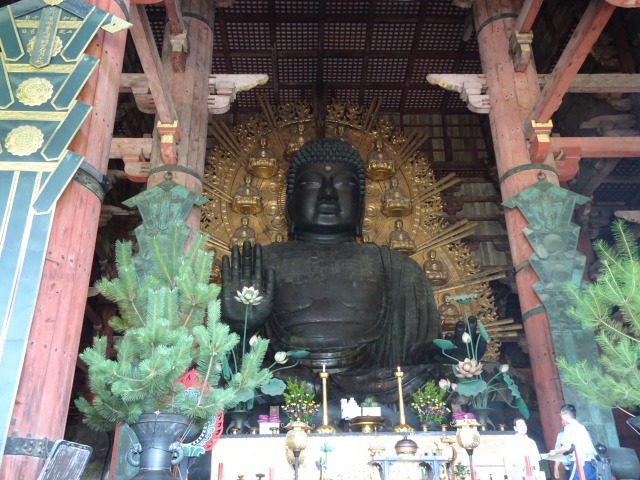 <The great Buddha of Nara:The Buddha Vairocana>
Let's go clockwise. On the way, you can try to go through the pillar hole. If you are small・・・maybe you can. At the other section, you can see the model of the original Todai-ji temple. The original temple complex contained two 100 meter high pagodas!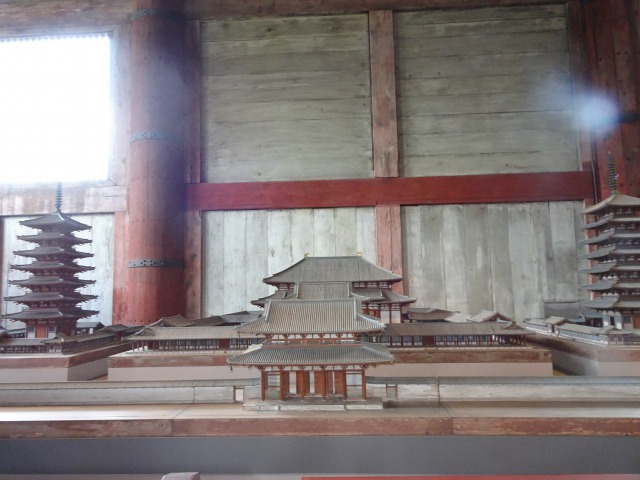 <The model of the original Todai-ji temple>
You should visit Nigatsudo Hall if you do not mind to climb steps and slopes. From the stage of Nigatsudo Hall, you can get a full view of beautiful Nara city.
| | | |
| --- | --- | --- |
| <Nigatsu-do Hall> | | <City of Nara from Nigatsu-do Hall> |
Then it is time for lunch! There are nice restaurants, tea houses, and souvenir shops around Nara park. If you are not so hungry, try tea houses where you can eat light meals. Famous Daibutsu pudding (homemade sweet caramel custard) is must eat in Nara!
| | | |
| --- | --- | --- |
| <Find a nice cafe!> | | <Matcha and sweets> |
| | | |
| --- | --- | --- |
| <A shop for Daibutsu Pudding / Nara> | | <Daibutsu Pudding / Nara> |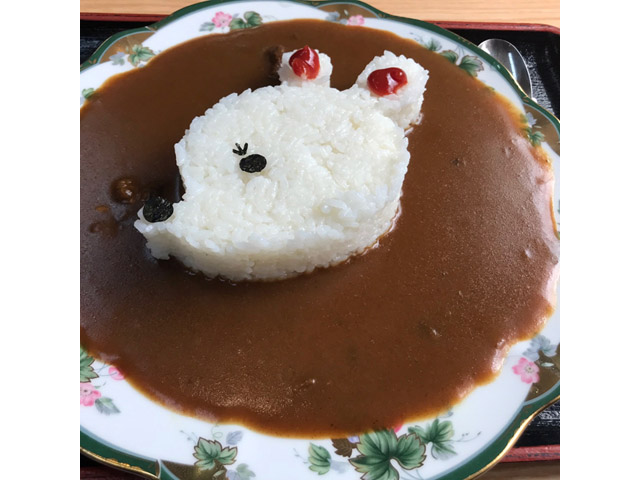 <Curry with deer shaped cooked rice / Nara>
After getting full, you might be sleepy. Don't worry! You can take a 1 hour rest in the bus while heading to Kyoto! When you are awake, you are already in Heian Jingu Shrine!
②Explore the Heian Jingu Shrine♪
Whether you are interested in history, or simply something inspirational, the Heian Gingu Shrine offers a breadth of experiences to discover – Built in 1895 to celebrate 1,100 year anniversary of the founding of Kyoto, "Heian-kyo", it is distinguishable by its traditional architecture of an Emperor's palace from an earlier era.

At first, you will see the Japan's largest torii gate with 24m in height and 18 m in width!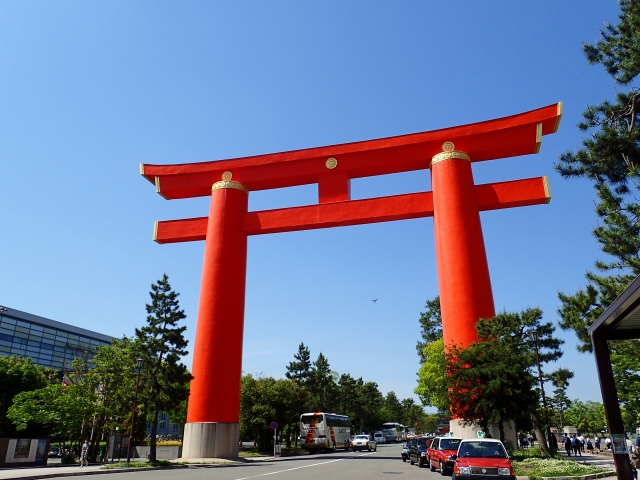 <A huge Torii Gate /Heian Jingu>
Pass under the Torii gate, then the road leads up to the grand "Ōtenmon gate", the entrance of the shrine. The dual-layered vermilion-lacquered gate is so stunning!
| | | |
| --- | --- | --- |
| <Ōutenmon Gate / Heian Jingu> | | <Ōutenmon Gate / Heian Jingu> |
From the top of the gate, you can see a sprawling open space, fully graveled white with the Daigokuden (former imperial audience hall) colored in red directly ahead. You can see the shining white gravel in clear weather and this is the scenery of Heian Period!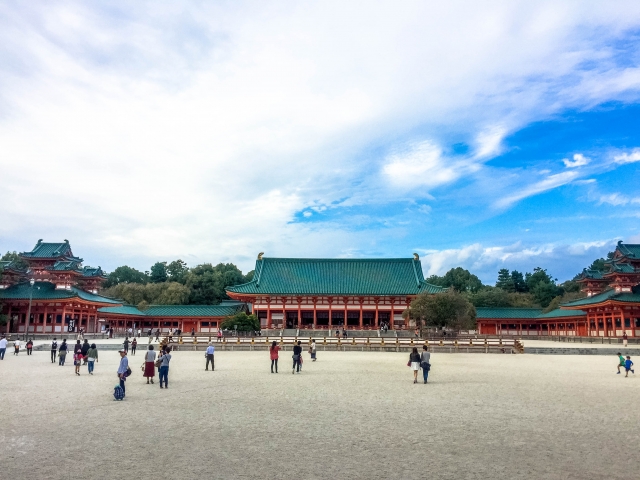 <Daigokuden/ Heian Jingu(Soryu-ro on the left side, Byakko-ro on the right side)>
It was believed that people were protected by "SŌRYU (Azure Dragon)" of the East, "GENBU (Black Tortoise)" of the North, "BYAKKO (White Tiger)" of the West, and "SUZAKU (Vermilion Bird)" of the South in the Heian period. Therefore, the building of the east side of the main building is called "SŌRYU-ro", and the west side is called "BYAKKO-ro". On the side of the beautiful hand-washing fountains, you can find the statues of tiger and dragon!
③Have a nice stroll at Kyoto's most attractive town, Gion♪
At last, you will visit Gion, the truly gorgeous place. Once you've arrived at the parking lot in front of Chion-in temple, it takes about 10 -15 minutes to walk to the center of Gion through Maruyama park, one of the Kyoto's most popular spot for cherry blossom viewing in April. "Hanami Koji" street is part of the old town where you can experience the graceful "Kyoto" atmosphere. It is so elegant and tranquil・・・This may be the most attractive street loved by both residence and visitors. Its stone-paved streets and lattice lined houses are an awe-inspiring site to see. There are several geisha homes so you may be able to meet with Maiko or Geisha if you are lucky. This is really the best location to take pictures of Kyoto♪
| | | |
| --- | --- | --- |
| <Hanami-koji streets> | | <lattice lined houses at Gion> |
At Gion, there are many "ryōtei" – a particular type of high-class Japanese traditional restaurant. Those restaurants are known for "members only", and you may hesitate to enter. Don't worry. Along the main street, there are many nice cafés that offer Kyoto sweets at relatively affordable prices. The most popular sweets here is "matcha parfait". In front of a popular café, there is always a long line! But it is worth to wait!!
| | | |
| --- | --- | --- |
| <Matcha Pafeit> | | <Matcha tea and Japanese sweet> |
Gion Shirakawa is also a must-visit, where you can soak up the unique atmosphere of Kyoto♪You can take a lot of nice pictures and spend times wandering along the Shirakawa river, admiring the sites.
| | | |
| --- | --- | --- |
| <Gion Shirakawa> | | <Gion Shirakawa> |
If you want to fully enjoy Gion's atmosphere, you can experience of wearing a Japanese beautiful kimono! (Note: Advanced reservation is required). You also have a choice to leave the tour and enjoy the impression and atmosphere of Gion at night!!
※There will be no refund and you are responsible for arranging your own transportation to go back to Osaka.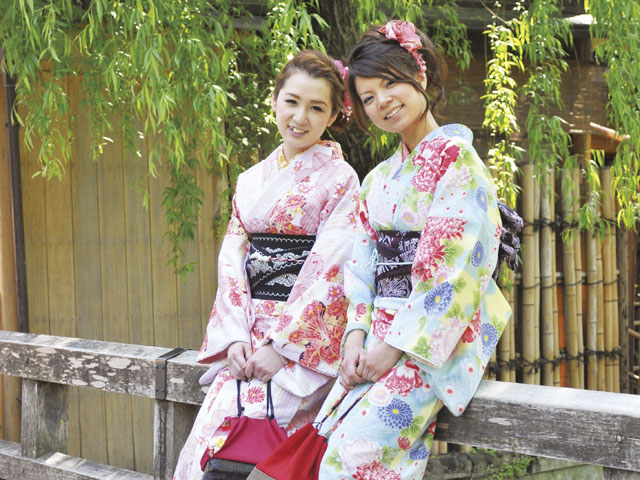 <Tatsumi Bridge (Gion Shirakawa)>
Take a nap on the bus while on your way back to Osaka
I was exhausted from walking so much in Nara and Kyoto. During one hour and half ride, relax in the tour bus to Osaka without worrying to ride and transfer a crowded train or bus. I bought many souvenirs without hesitation because I did not need to worry carrying it♪
This fulfilling Nara and Kyoto tour is so reasonable with an English (Chinese) speaking guide! The tour operates from 1 participant that makes you easy to form a plan! Don't miss this absolutely amazing chance. Advance booking is necessary to reserve a seat!
The tour itinerary will be changed upon the season. Please see our website for more details.