scroll to start reading my trip♪
Course No. : A1060Z
(Morning) Exploring The Tsukiji Market
Tsukiji Fish Market a Japanese treasure
The Tokyo Central Wholesale Market 『Tsukiji Market』 opened in 1935. The market handles aquatic products, vegetable, and fruits and supports the dietary life of Tokyo. Originally only agents were permitted to enter, but now it is known as one of the more exciting sightseeing spots in Tokyo and tourists come from all over the world. I went to the Tsukiji Market with a professional guide and an English-speaking assistant to see what it looks like.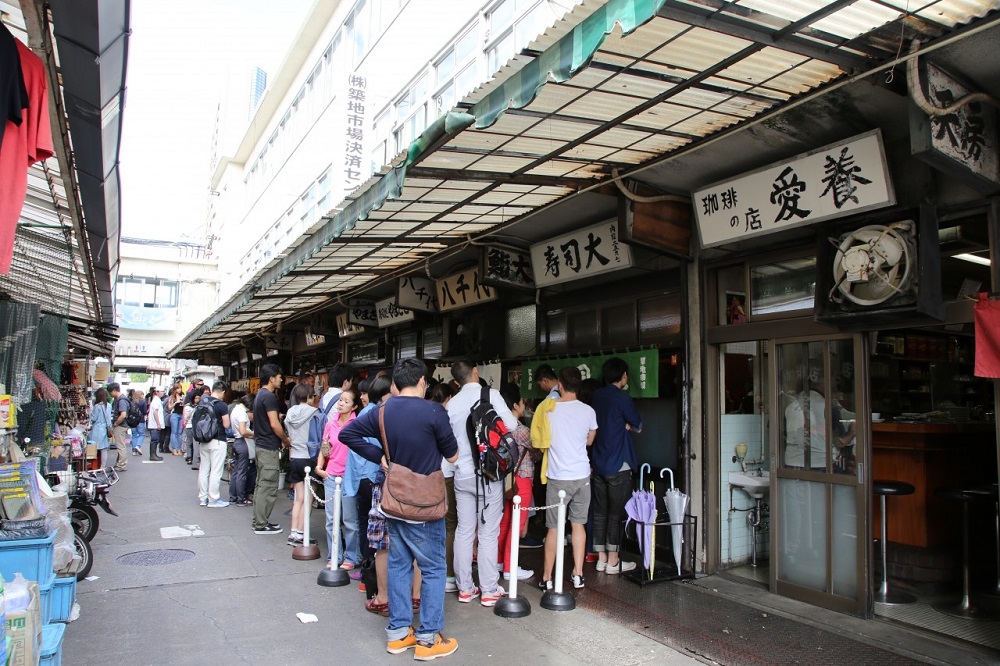 Be sure to check the rules and follow all the guideline
Participants of the tour met at Tsukiji-Ichiba station at 9:00 and were divided into small groups. Tour groups cannot go inside Tsukiji, so we needed to be divided into small groups. Each group has an exclusive guide. I listened closely to the guide explaining the precautions to entering the market.
Eating and dining in the "outer market"
First of all, we went to the "outer market" next to the Tsukiji market. This is as same as the regular shopping street where tourists or the general public enjoy shopping. Let's eat around! The first meal was two nigiri-sushi with fresh fish! Today's topping were tuna and salmon. A nice tea was also served. The sushi contains wasabi which has a quick a "kick", so be careful!
A favorite haunt of Tsukiji is "rolled egg". Each store has its own taste, some sweet and some with soup stock. This time we visited a shop of Terry Ito's relative, which had been introduced by a TV program. It was flooded with people there. Just a minute piece, but yes, it was so tasty! Rolled egg is a must-eat dish in Tukiji. Then, I tried a hot Niku-man(Steamed Pork Buns). I was getting stuffed.
Bring on dessert!
At the next store, hmmmm, what is this? Is this a pancake in the shape of a fish? This is called "Maguro-yaki" (Baked Tuna). I wondered if a chunk of fish was inside, and then had a bite. It was sweet! The pancake was stuffed with sweet bean paste. The look of the pancake was striking and other foreign tourists asked me where they could buy it. It was an impressive experience. At the last store, we had a dango (dumpling). I was so stuffed so brought the dumpling back to home.
Let Namiyoke Shrine guide you through the history of Tsukiji
The Namiyoke Shrine is dedicated to the gods of food, clothing, shelter, and commercial, which is the patron saint of Tsukiji. The shrine precinct is small in scale, but it has an integral place in Tsukiji's history. Several large Lion's heads are offered. A little strange thing is a mound for eggs. The makers of rolling eggs built a mound to hold a memorial service. In addition, there are the mound of sushi, the mound of shrimp, and the mound of fish.
Prepare yourself for entering the "inner market"
Now, it was time for entering the "inner market". Large groups cannot enter this place, so we were further divided into groups of five people each. The inside is totally different from what was outside. I was so excited to see real fisherman and fresh fish that I could not see outside. I could take pictures, but I had to be careful not to get lost because the guide could not use a flag.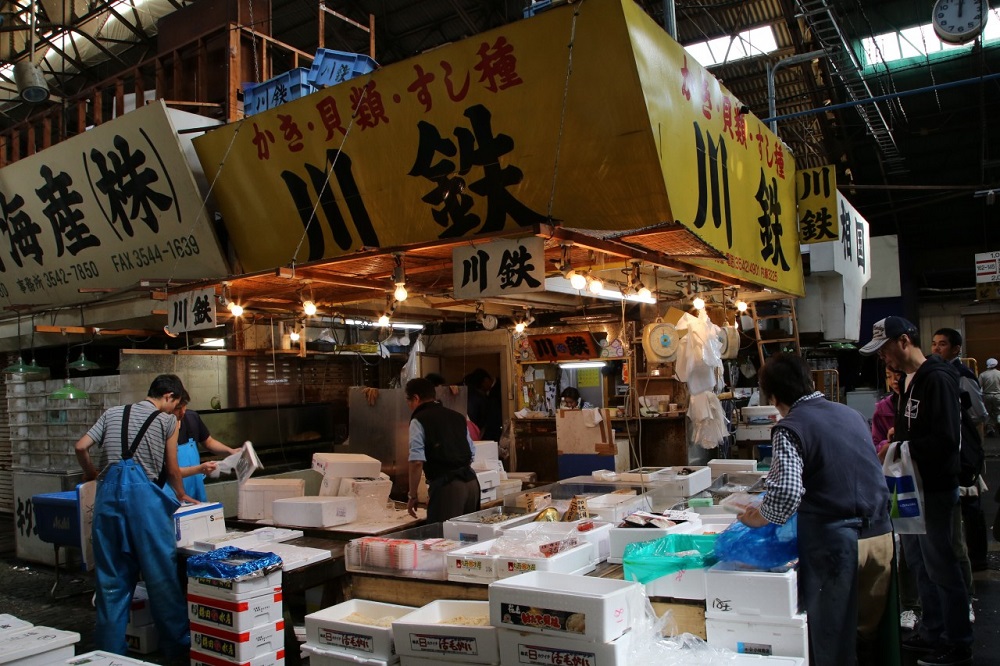 All's well that ends well with the tour of Tsukiji Hongan-ji Temple
It was just a few hours but I could spend a meaningful time to know about Tsukiji's long history. Thinking about the admittance control and difficult atmosphere to enter, I was glad to participate in the tour. The inner market will relocate soon, so it was a nice experience to see before itsrelocation (as of November 2016, the time of relocation is still undecided).Enjoy a nice gourmet morning at Tsukiji!